Hassle-free installation
The Powerbar arrives with no detachable parts, and is accompanied by only a four-step instruction manual. Step one is to place the Powerbar face down, and pull forward both arms.

The arms rotate easily, and click nicely into place. With the arms extended, the Powerbar can loop over a door frame and the arms rest on the top architrave. The contraption is recommended for doors that are in "sound condition", so most homes shouldn't have a problem. Easy enough?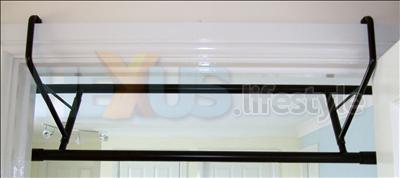 Come around to the other side - the front - and you'll see that the Powerbar is secured against the door frame, using rubber-padding to prevent leaving marks. Despite Powerbar's claims, however, we're adamant that it will leave slight black marks after prolonged use.
More importantly, the Powerbar is said to use a "unique counter-balance system" to spread the users' weight into the wall rather than down on the door frame - the result is that it won't cause any damage to your home.