iBuzz vibrates in time to your music so you can get off while getting down (it says here)



iBuzz musical orgasm machine gives digital home a

whole

new meaning



A company banking under the name of LH Trading, and calling itself Love Labs, is selling off the web site http://www.ibuzz.co.uk a digital boudoir device called iBuzz. This is dubbed "The Music Activated Orgasm Machine" and claimed to work with any MP3 player or portable music device.

Pop along to that site and you'll be greeted by an iPod-style silhouette dancing to music -

I touch myself

- described on the iBuzz site as by the Bazooka Brothers but seemingly co-produced, programmed and engineered by Simon Power of copyright-free-music-creator Meon.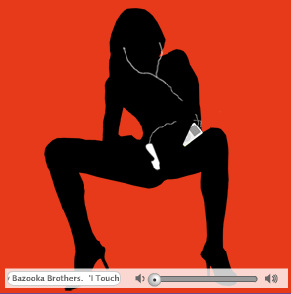 We've been struggling to come up with suitable double entendres but, honestly, why bother when the words on the site are so much more fun?

We quote,



What is iBuzz

iBuzz is the musical orgasm machine! The music-activated vibrating bullet stimulates you in time with your favourite music. Which song pushes your buttons? It plugs into any music player to let you enjoy your music like never before!

iBuzz Music Activated Sex Toy

* Bullet vibrates in time to your music!

* Turn the music up for stronger vibrations!

* Stimulating fun for him and her!

* Easy to use - plug in and play!

* Works with or without music!

* Only £29.99!

How it works

Using iBuzz is easy! Connect iBuzz to your music player, turn on your favourite tune and let the vibrations take you to heaven. iBuzz vibrates in time to your music so you can get off while getting down.

Use the his-and-hers attachments to add extra excitement! Turn him into a vibrator with the stretchy ring and use the soft sleeve for sensitive stimulation.

No music player? You can still use the iBuzz for orgasmic fun. Just turn on and enjoy the 7 amazing vibration patterns - press the arrow buttons until you find the one that suits your mood!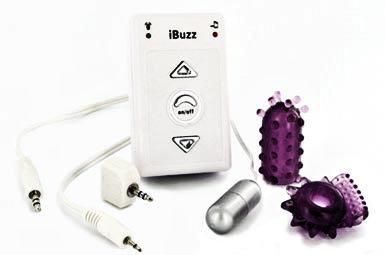 What You Get

iBuzz comes with everything you need to start enjoying musical vibrations... except for an MP3 player!

* iBuzz unit (in fetching white!)

* Vibrating bullet with long white lead

* Knobbled stimulating sleeve for her

* Spike cock ring sleeve for him

* White lead to connect iBuzz to your MP3 player

* White Y-adaptor so you can plug your headphones in as well

Just add music and have fun!

iBuzz FAQ

Q. What music players does iBuzz work with?

A. iBuzz will work with any sound source that has a standard 3.5mm mini-jack. This includes iPod, iPod Mini, iPod Shuffle, iPod Nano and pretty much any portable music player you care to mention!

Q. What do I get for my money?

A. You get everything pictured - iBuzz, all the leads and connectors, plus the his-and-hers jelly attachments. You don't get batteries, a music player or any music to play!

Q. Where can I buy iBuzz?

A. You can buy iBuzz on this Web site! Sorry, but iBuzz is not currently available in the high street. But if Mr Argos gives us a call, we're all ears!

Q. Where can you deliver iBuzz to?

A. We can send iBuzz to the UK and Europe. Sorry, but iBuzz is not available to the USA or other parts of the world.

Q. How much does delivery cost?

A1. UK Delivery Costs

Standard delivery to UK addresses costs £3.50.

Standard delivery is free on orders over £40.

Express next-working-day delivery to UK addresses costs £5 extra.

A2. Europe Delivery Costs

Standard delivery to European addresses costs £10.

Express delivery to European addresses costs £5 extra.

iBuzz is not available in the USA


So, next time you see a young lady wearing earphones and looking really turned on...