UK manufacturer PURE has been churning out DAB radios for about as long as we can remember, and with considerable success, too. Since the company's formation in 2002, the PURE brand has become practically synonymous with Digital Audio Broadcasting.
But it hasn't all been plain sailing. While the Hertfordshire-based manufacturer could rightly claim to have mastered the digital radio, it has struggled to move beyond the compact, one-speaker solution into mini hi-fi territory. And not through a lack of trying, we should add.
In recent years, PURE's DMX and Legato product lines have tried to conquer the living room, but after a short stint at retail, both have since been discontinued. That might have been the end of the PURE mini hi-fi, but not quite, as the company has now introduced the Sirocco 550.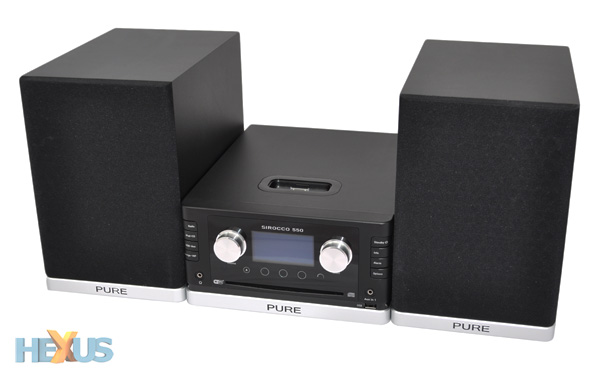 Priced at around £350, the Sirocco 550 is an all-in-one solution that, on paper, lives up to its billing. Right out of the box, the compact main unit (225mm x 120mm x 319mm) features a slot-loading CD player, FM and DAB radio reception, integrated Wi-Fi for Internet radio and UPnP streaming, USB input for playback from a flash drive, a couple of inputs for auxiliary devices, and of course the obligatory iPod/iPhone dock. Heck, it'll even double as a radio alarm clock.
Neat little box of tricks
There's not a lot this hi-fi won't play or do, and each function is backed up with a healthy set of underlying features. The CD player will happily accept your MP3/WMA compilations, the iPod dock is compatible with a decent selection of Apple devices, and PURE's web-connected functions are particularly impressive.
In addition to providing access to thousands of web-based radio stations, the Sirocco 550 grants access to podcasts, on-demand programming from the likes of the BBC, and an online library of unique ambient tracks dubbed PURE Sounds. The vast library of content brings real value to all of PURE's web-connected radios, and it's made all the more appealing through thelounge.com - an online portal that allows users to manage an unlimited number of favourite stations or podcasts from an intuitive web-based interface.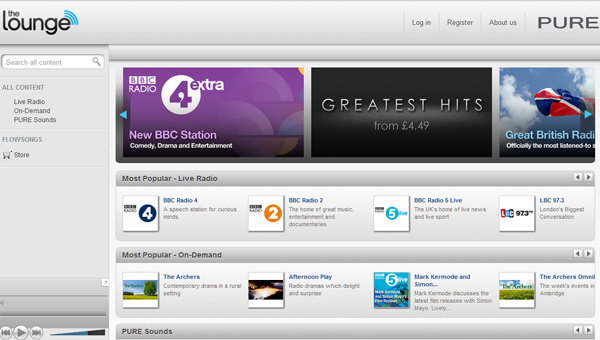 PURE's ecosystem wants to become the centre of your listening experience, and its credentials have been further bolstered with the launch of Flow Songs. Currently available to UK users only, Flow Songs is a built-in function that will identify tracks on any live radio station and give the user the option to buy the track direct from the radio. Purchased music is automatically stored in the cloud for streaming to any compatible device, and can be downloaded to a PC at any time in high-quality MP3 format (typically 320kbps).
The Flow Songs concept is excellent, but there are a few niggling issues; the service carries a £2.99 annual fee, you're almost certain to run into songs that aren't available from the online store, and the cost of individual tracks isn't always competitive with alternative providers such as Amazon MP3.
Still, it's hard to complain about the level of choice on offer here, and should PURE's own web-based solutions be surplus to requirements, you'll still be able to stream content from any UPnP media server. MP3, WMA, AAC, MP2 and Real Audio are among the supported codecs, though there's no love for the popular lossless format, FLAC.
Keeping control
The sheer number of options is mind boggling, but navigating between them can be frustrating, too. Despite the increase in audio sources, the Sirocco 550's interface - consisting primarily of a 128x64 OLED display, two large dials and a couple of touch-sensitive buttons - is practically identical to PURE's previous Internet-connected radios.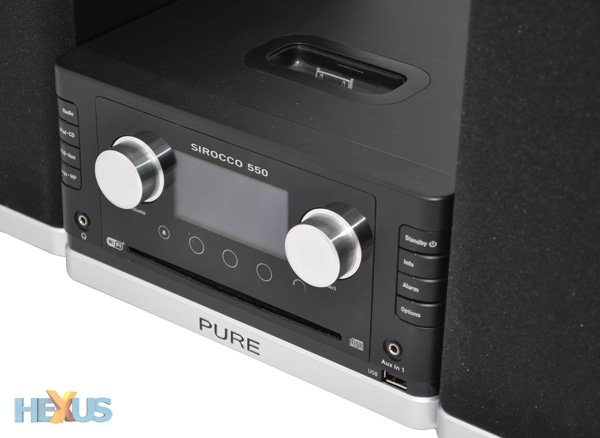 The simplicity of the controls is excellent when you're switching from Radio 4 to 5 Live, but try moving from DAB radio to a song stored six-folders deep on a media server and you may find yourself lost in a myriad of menus. Text input for search is particularly fiddly, and the display - whilst bright - isn't as large as we'd like and can be difficult to read from a distance.
The complexity of the dials, buttons and touch-sensitive controls might have been off-putting, but PURE thankfully has an answer with its bundled remote control.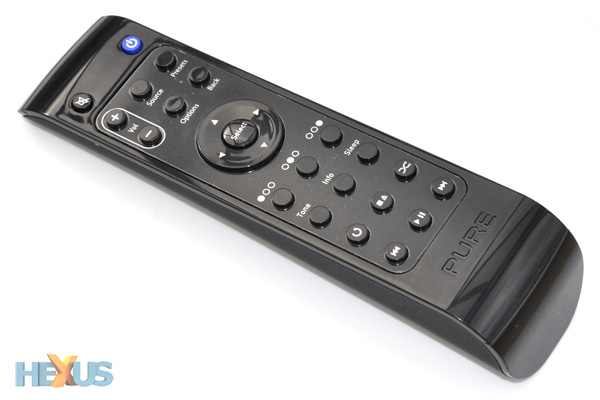 While the aesthetics of the RF controller don't live up to the unit's £350 price tag, it's appreciatively easy to use and provides one-click access to functions that would otherwise be hidden beneath layers of menus.
The Sirocco 550 isn't perfect (a larger display and a revamped interface would be high on our list of wanted improvements), but the overall package is nevertheless impressive. PURE's build quality is good, the system looks sufficiently sleek, and the wealth of functionality on offer is rare in a system of this size.
What's that sound?
The Sirocco 550's main unit could be described as a marvelous box of tricks, but its accompanying speakers are, unfortunately, far less spectacular.
The cabinets, standing 168mm wide, 260mm high and 250mm deep, are each equipped with full-range 5.25in mid drivers and 20mm tweeters, but deliver a sound that's best described as average.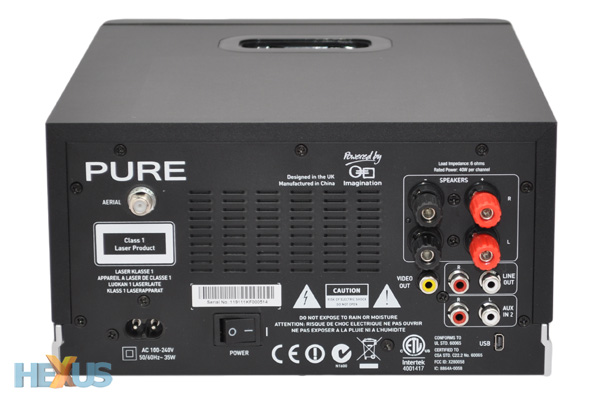 PURE states that the system makes use of high-quality Class D amplifiers and digital audio shaping technology to deliver clear dynamic audio, but the Sirocco 550 never manages to fully engage its listener. The sound quality is sufficient for everyday radio broadcasts, and there's enough volume for the occasional house party, but slot in your favourite CDs and you'll be faced with mixed results.
We found pop music to be lively enough - the unit's bass and treble controls are at hand to help deliver a suitable level of punch - but classical tracks and movie scores lack high-frequency definition and sound overly warm, if not woolly.
There's no hint of distortion at maximum volume, and the casual listening experience is generally pleasant, but the Sirocco 550 does struggle to rouse the senses. If you're enthusiastic about your audio, aim for an in-store audition prior to making a purchase - you may feel the urge to attach a third-party set of bookshelf speakers.
Bottom line: the Sirocco 550's exhaustive array of audio sources makes it a hugely convenient all-rounder, but audiophiles may find that the speakers lack conviction.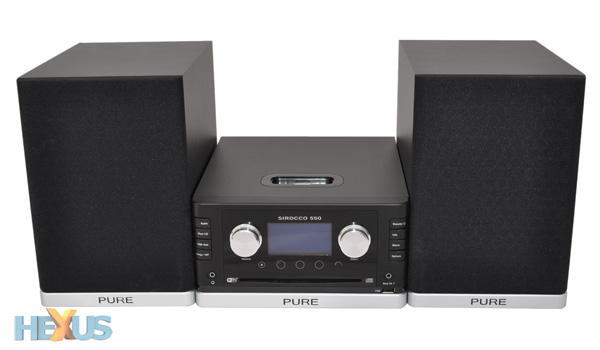 The Good
Plays from a comprehensive range of sources
Vast library of online content
Compact design
The Bad
Sound quality leaves something to be desired
Interface can be fiddly at times

HEXUS Rating


Pure Sirocco 550
HEXUS Where2Buy
The Pure Sirocco 550 is available to purchase from amazon.co.uk, play.com, comet.co.uk and johnlewis.com.
HEXUS Right2Reply
At HEXUS, we invite the companies whose products we test to comment on our articles. If any company representatives for the products reviewed choose to respond, we'll publish their commentary here verbatim.