Walk past any house and more often than not you'll notice a huge LCD or plasma television dominating the lounge. Prices of these flat-panel screens have fallen dramatically in the last two years, and, if you shop around, it's now possible to buy a reasonable 40in set for £400. Bright and sharp as the picture may be, most sets have basic, tinny-sounding audio speakers - understandable given the price point. It's no wonder that home cinema systems - which aim to flesh out the sound by bundling in several speakers alongside a receiver/amplifier - have become hot property.
A rudimentary home-cinema kit comprises of five speakers - two front, two rear, plus a centre - and a subwoofer, which may feature a built-in amplifier and receiver. Adding further value, kits are often bundled with a DVD or Blu-ray player, meaning it's a one-purchase solution for turning a TV's audio into a cinema-like affair. Starting off at around £100 and rising to many thousands for esoteric kit, higher-priced systems tend to have better, more immersive sound through high-quality speakers and receivers that adhere to premium industry standards such as THX.
Berlin-based manufacturer Teufel has been busy churning out a range of loudspeakers for over 30 years. Jumping on the home-cinema bandwagon with gusto, it has at least 20 different products that can be customised to offer a near-endless list of possibilities. Building on the speaker-only Columa 300, Teufel has launched a 5.1-channel variant with a receiver built into the sub.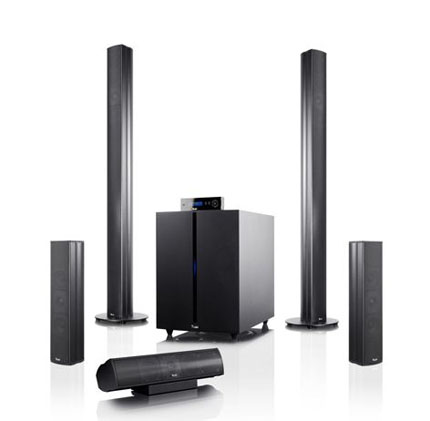 The 300R, available in black and silver, is dominated by the hefty subwoofer in the middle. Measuring 34cm x 55cm x 49cm (W x D x H) and weighing in at a substantial 22kg, the subwoofer-and-receiver houses a bottom-firing 260mm driver that can punch out up to 150W RMS of deep bass, down to a trouser-flapping 35Hz. A further 100W is available to the satellite speakers, according to the company.
An integrated receiver has a Dolby Digital/Pro Logic II and DTS Surround decoder built-in, though newer technologies such as Dolby TrueHD and DTS-HD MA - primarily for Blu-ray discs - aren't supported. Expanding the features, Teufel throws in an AM/FM receiver. Powering up to six speakers - a 5.1-channel setup - it has seven inputs, split over two digital coaxial, two optical and three sets of RCA analogue.
We're a little miffed as to why no HDMI inputs (enabling 'native' or bitstreamed DTS-HD MA and Dolby TrueHD) and pass-through outputs are provided, seeing as how the majority of modern A/V equipment is laden with the port. This means that the picture component needs to be attached separately to your screen.
Providing a visual confirmation of the settings is a rather neat external display, connected by a 2m wire to the subwoofer, and it makes sense if the voluminous subwoofer is hidden out of sight. The premise is to keep it close to where you're sitting, as the display, which can be turned off, is difficult to read at distance. Mode-switching and general toggling of settings is provided on the remote control, and any changes are noted on the display.
Starting at £699 for a package that features four mid-sized satellites and a centre speaker, it can be upgraded to have floorstanding versions added to either the front or back. Substituting in a pair of larger front speakers costs an extra £50, while going the whole nine yards and opting for floorstanding fronts and rears increases the overall cost by another £20.
The aluminium-bodied, mid- and full-sized speakers share the same drivers, tweeters and general specifications. Build quality is excellent and the column floorstanders, from which the set gets its name, look very cool, as does the centre speaker. Keeping with hi-fi convention, each speaker feature a pair banana plug-type connectors - handy if you have some expensive pre-plugged wire hanging around. 30m of basic 'bell wire' is included in the box, though we'd advise A/V enthusiasts to invest in some proper speaker cable at the earliest opportunity. All told, getting the kit out of multiple boxes and ready to rumble takes little more than 30 minutes.
Sound quality
We put the middle kit - floorstanding fronts and smaller rears - into action in a rectangular-shaped lounge with a total floor area of 240 sq. ft. Hooked up to a Sony BDP-S370 Blu-ray player and Sky HD box via optical cables, and those in turn to a Sony 46in LCD via HDMI, the Blu-ray version of Lord Of The Rings: FOTR was fired up. The subwoofer displays a cool-blue sliver of light down the middle, letting you know that a neighbour-annoying din is about to be created.
Set to half volume - setting 40 of 80 - the Teufel Columa 300R screams into action. Speech is crisp and clear, locked to the TV, and the bass is taut and immediate - neither overblown nor undercooked. It's difficult to discern where the floorstanding satellites hand over to the subwoofer for full-on bass duties, meaning Teufel has done a good job in providing a seamless sound from multiple speakers.
At default levels the rear speakers feel overshadowed by the front trio, though the Columa 300R provides a means by which speaker bias can be set through the display. However, the combination of an HDMI-derived picture and optical-driven audio leads, in this case, to syncronisation issues. Teufel, too, provides an option to adjust the delay, but getting it just right can be difficult, especially as it varies between the Sky box and Blu-ray player.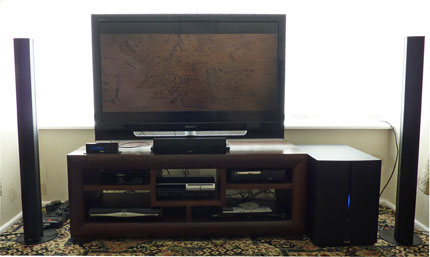 But once it's right, notching up the levels leads to a genuinely room-filling sound. Teufel eschews a silly number of presets - there are only four options: movie, music, 5.1 and 2.1 stereo - and focuses on sound, instead. The bass is consistent and deep without ever becoming excessive, and it's well-tied to the other speakers. Perhaps the mid-range is a little shrill at times, mostly at ear-bustin' levels, yet the Columa 300R manages to keep audio coherency until you give up on increasing the volume farther.
Put on some football and the pseudo 5.1-channel sound does a pretty convincing job at giving you an all-round sound. Depending on source, regular CDs sound pretty good, too, and reasonably close to the quality offered by a Denon D35 DAB (stereo-only) receiver and KEF Q35 floorstanding speakers.
Sound quality, then, is very good. The aim of any decent home-cinema kit is to make you part of the action, to replicate, as close as possible, the audio quality of a decent cinema. Teufel's Columa 300R is easy to setup, looks subjectively great, and has devilishly good audio credentials. An HDMI-based version of the same set would be preferable and, of course, £699 is an awful lot of money for speakers. However, if you've just splashed out a tidy sum on a 3D-capable TV and want to compliment the visuals with some excellent sound, the Teufel Columa 300R is a good place to start.
The Good
Excellent sound
Look great
Doddle to setup
The Bad
Price, potentially
Could do with HDMI
HEXUS Rating

Teufel Columa 300R
HEXUS Awards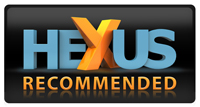 Teufel Columa 300R
HEXUS Where2Buy
The reviewed set can be purchased directly from Teufel here.
HEXUS Right2Reply
At HEXUS, we invite the companies whose products we test to comment on our articles. If any company representatives for the products reviewed choose to respond, we'll publish their commentary here verbatim.