Sample footage, thoughts and rating
Video quality
With the Flip camcorder, what you record is what you get. There are no image adjustment options, and all footage is captured in the standard 720p HD resolution at 50 frames per second. White balance, black level calibration and exposure control is all handled automatically with no input from the user and video is output in a compressed H.264 format at an average bit rate of 8.8Mbps.
But the simplification is by no means a bad thing. We've achieved excellent results whilst using both the Flip UltraHD and MinoHD, with videos showing vibrant colour, ample clarity and smooth(er) motion courtesy of the built-in image stabiliser. There's still a fair amount of judder when used without a tripod, but a steady hand - combined with the new 50fps frame rate - can deliver smooth action without the nauseating shake associated with many pocket camcorders.
Low-light footage - another common failing of devices of this kind - isn't quite as bad as we'd feared. Although recording in darker environments does introduce visible noise, the image remains surprisingly bright. Speaking strictly in terms of video quality, the Flip UltraHD and MinoHD are far from the best camcorders on the market, but for their purpose - primarily home videos or YouTube clips - there's very little to fault.
Here are a couple of sample videos we captured earlier. Both clips were edited using the FlipShare utility, the first showcases video and audio quality in a noisy room with limited lighting, and the second provides a look at outdoor video quality on a bright sunny day.
UltraHD or MinoHD?
If you've seen the footage and decided that a Flip camcorder is the right device for you, which one do you choose from - the UltraHD or MinoHD? Well, with the UltraHD's thinner form factor, there's now little to separate the two.
Flip UltraHD 8GB
720p HD | 50 fps | 2 hr
Image Stabilization

Flip MinoHD 8GB
720p HD | 50 fps | 2 hr
Image Stabilization

RRP

£159.99

£179.99

Lens

2x Digital Zoom

2x Digital Zoom

LCD Display

2.0in (320 x 240)

2.0in (320 x 240)

Battery Type

Flip Video Lithium-ion Battery Pack (included) or 3 AAA Lithium Batteries

Internal Lithium-ion Battery

Battery Life

Up to 1.5 hrs of use between charges

Up to 1.5 hrs of use between charges

Dimensions

10.57cm x 5.36cm x 2.24cm

10.16cm x 5.08cm x 1.52cm

Weight

128g

116g

Interface

Easy-press buttons

Touch-sensitive capacitive buttons

PC Connection

Built-in flip-out USB 2.0 arm

Speaker

Built-in speakers

Built-in speakers

Microphone

Built-in wide-range stereo microphone

Built-in wide-range stereo microphone

TV-Out

HDMI (HDMI Micro)

HDMI (HDMI Mini)

Tripod Mount

Yes

Yes

FlipPort

Yes

No

Video Quality and Performance
Resolution

1,280 x 720

1,280 x 720

Image Stabilization

Yes

Yes

Sensor

1/4.5in, 1.6 megapixel CMOS sensor (2.2 x 2.2 µm square pixels)

Light Sensitivity

Ultra low-light sensitivity (>1.4 V/lux-sec) with automatic low light detection

Frame Rate

50 frames per second (constant frame rate, progressive scan)

50 frames per second (constant frame rate, progressive scan)

Average Bitrate

8.8 Mbps (auto-adaptive algorithm)

Video Format

H.264 video compression, AAC audio compression, MP4 file format

White Balance & Exposure

Automatic white balance and black level calibration. Automatic exposure control with dynamic exposure compensation.
Looking at the specification of both devices, there are literally just five major differentiating factors; price, battery type, dimensions, interface and the inclusion of the FlipPort.
Taking those elements into account, the UltraHD is our pick of the two - despite being fractionally larger and heavier, it's cheaper, has flexible battery options, and is future-proofed with a built-in FlipPort. We also prefer the UltraHD's "real" buttons to the touch-sensitive keys on the MinoHD. Though the latter solution is perfectly responsive, we did find ourselves accidentally brushing the zoom out key whilst starting and stopping recordings.
Conclusion
If capturing video for the family archives or current affairs for YouTube are your principal interests, both the Flip UltraHD and MinoHD are excellent choices. Video quality is good, and being able to record almost instantly at the touch of a button is hugely appealing.
But whilst the Flip's streamlined approach will be welcomed by many, it may also alienate others. The UltraHD and MinoHD continue to excel at their primary task - one-click video capture - but with prices starting at £159.99, you can't help but wonder; should these third-generation handhelds do more? The inability to capture still images or record at a full-HD 1080p resolution is disappointing, and both are features you'd now expect to find at this price point.
Yet, despite little real innovation since its inception in 2007, the Flip's simplicity continues to help it stand out from the crowd. Image stabilisation and a sleeker form factor are welcome upgrades, but it's the ease of use that will appeal to the mass market.
Designed to make video sharing easier than ever before, it's a gadget that spans the ages; whether you're eight years old or 80 years old, you'll enjoy being able to capture high-quality video with ease.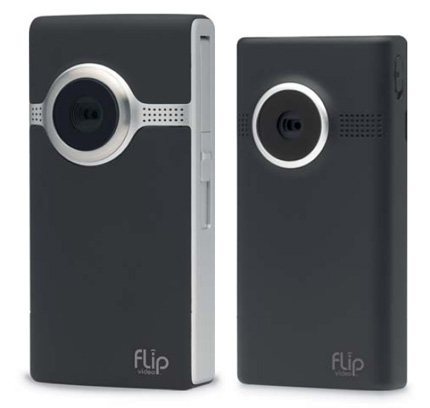 The Good
Produces good-quality video
Extremely easy to use
Highly portable
The Bad
No 1080p video mode
No memory card slot
Can't shoot stills
HEXUS Rating
| | | |
| --- | --- | --- |
| Flip UltraHD | | Flip MinoHD |
HEXUS Where2Buy
The Flip UltraHD and MinoHD are available to purchase from Amazon.co.uk.
HEXUS Right2Reply
At HEXUS, we invite the companies whose products we test to comment on our articles. If any company representatives for the products reviewed choose to respond, we'll publish their commentary here verbatim.