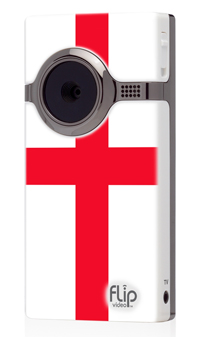 We're starting to see a steady stream of World Cup-themed gadgets in the build up to next month's tournament, and Flip Video is today getting in on the action with a limited edition St George's Flag Flip Mino camcorder.
The pocket shooter, pictured right, is essentially a first-generation Flip Mino camcorder with a splash of red paint, but it's perfect for those who're overcome with World Cup fever.
Priced at £99.99 from Amazon.co.uk, the limited edition device fetches a £10 premium over a standard model but is identical in terms of hardware specification. The camcorder provides 2GB of Flash memory - enough to capture up to 60 minutes of video - and a flip-out USB connector for easy connection to your PC. Flip's built-in software allows you to edit videos on the device's 1.5in LCD display, and there's an option to upload your clips directly to YouTube.
It's cute, but it's a shame they didn't apply St George's Flag to the second-gen HD model.
The World Cup is still over two weeks away, but if you're already sick of the football focus, here's a sobering thought; just think of what'll happen if we win.