New frontiers
Listen up



Corsair is a company whose roots are firmly entrenched in providing components to the enthusiast community. Known predominantly as a supplier of high-quality memory for the past 16 years, Corsair has steadily been diversifying interests outside the cut-throat world of DRAM manufacturing. Encroaching on other markets, we've seen PSUs, flash devices, coolers and chassis introduced in the last few years. In a somewhat surprising move that we unearthed back in May, Corsair planned to move this diversification up a notch by introducing a range of audio products.

The first audio product to bear the Corsair name is the HS1 USB gaming headset. Due to be widely available in a couple of weeks' time, Corsair dropped a full-production sample in for our aural delectation. Now a weekend on from wearing the 'set on a regular basis, let's give you the skinny.

The HS1 USB is launching with a $99 (£70-£75) retail price, putting it firmly in the premium segment of the headset market. Competition is fierce from established competitors such as Creative, Sennheiser, Logitech and Razer, to name but a few.





Premium listening



Presented in an unassuming and minimalistic look, the HS1 USB headset resembles mid-range headphones rather than the usual button-infested headsets. Indeed, other than the obligatory unidirectional, noise-cancelling microphone on the left-hand side, one would be forgiven in thinking that what you're looking at is a set of stereo 'phones.

Build quality is good and, once in position on your head, the headset feels comfortable from the get-go, belying its 340g weight. Catering for heads of all shapes and sizes, the band can be made larger in 15 micro-adjustable steps. The pads provide reasonable pressure to the side of the head - and not the ears, importantly - and folk who, like this reviewer, wear glasses should have no trouble in finding a comfortable fit.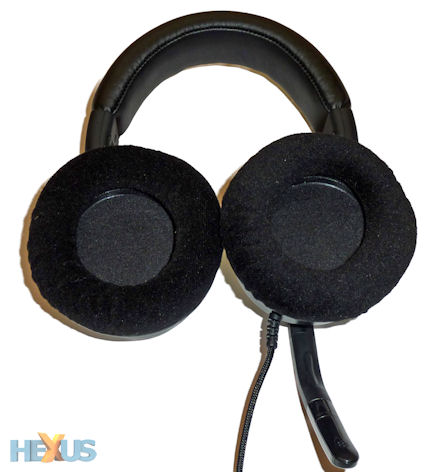 Being a stereo headset, Corsair uses two 50mm drivers with angled baffles that are enveloped by extra-large pads which completely cover your ears - a closed-back design - and eliminate the squeezing, pinching feeling produced by cheaper headphones/headsets. The replaceable memory foam pads are made out of fabric rather than faux leather and, having worn them for over 10 hours over a two-day period, we're impressed by their comfort level. Corsair says replaceable pads should cost around $10, though final pricing has yet to be confirmed.

The non-removable noise-cancelling microphone juts out of the left-hand side and can be moved into ten different positions, albeit lacking any horizontal adjustment. We found that it picked up voices just fine from practically every position.




Without any controls on the HS1 itself, Corsair provides a large in-line volume control, about four feet away from the headphones, that toggles the volume and microphone settings. Ending with a USB connector, cordage is generous, coming in at over 10 feet, and it's wrapped in a non-sticky mesh.





Corsair's Dylan Rhodes was on hand to explain more of the design philosophy underpinning the HS1, and you can peruse the video at your leisure.



Initial impressions



Shipping with a standard two-year warranty and seemingly more akin to a decent set of headphones - Sennheiser's HD 428, for example - than a premium headset at the outset, Corsair's HS1 USB is well-designed and comfortable. It can be used as regular stereo headset without the need for additional drivers - on newer operating systems, anyway - yet installing software opens up a plethora of options.