Big-Screen Experience
We've kept you waiting until the second page, so let's cut to the chase: the UHD550X can deliver delightful 4K visuals. The image quality belies the price tag, and there's good reason to consider this projector as an affordable upgrade from an ageing 1080p unit.
The level of detail from a 4K source is genuinely impressive, particularly at a screen size of 100 inches or more, and upscaling of regular HD content is perfectly competent. Mad Max: Fury Road, played back via 4K UHD, is displayed beautifully, with excellent clarity, good colour reproduction and no noticeable signs of judder.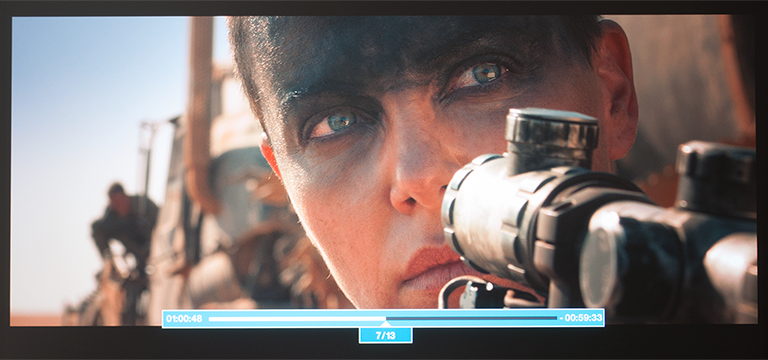 At this price point it is hard not to be impressed, yet there are inevitable caveats, and while the UHD550X is a good entry-level 4K projector, it is by no means a match for premium models in this field. Contrast could certainly be better, as blacks aren't as deep as we'd like, and though the 55ms input lag is perfectly acceptable for most users, enthusiast gamers may prefer to seek a faster solution.
Optoma's built-in image presets also leave something to desire. Cinema and HDR are, in our estimation, the only presets worth using, and like many projectors before it, the UHD550X struggles to make the most of HDR imaging. Turning the option on adds another dimension by giving colours that extra pop, yet the effect is stifled by the projector's limited contrast ratio and constrained colour gamut. Optoma officially claims support for the Rec. 709 standard, but Rec. 2020 is the preferred minimum for HDR content, and though it is nonetheless an option worth having, the effect isn't as remarkable as that of a high-end TV or a brighter, more costly projector.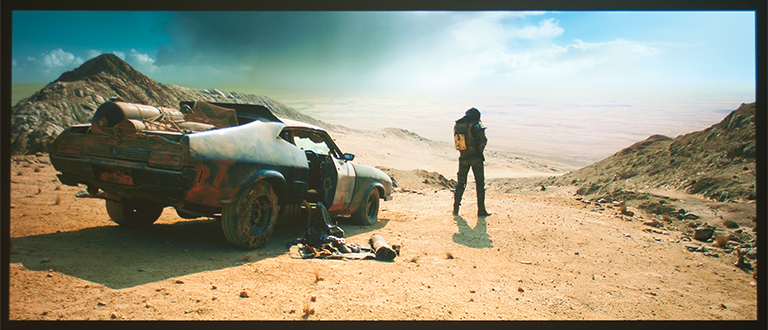 Comparing picture quality with HDR on and HDR off reveals that a certain amount of detail is lost with the feature activated, and parts of the image do appear over saturated. Optoma also includes an option to convert SDR content to HDR, but the result is by no means pleasing to the eye, so we chose to leave that feature disabled at all times. The Cinema preset with HDR enabled and set to film mode worked best for us, but there remained a frequent desire to tinker in order to get a more natural image, and we suspect home cinema aficionados will opt for professional calibration in order to get the best results. If that's what you have in mind, built-in ISF Day and ISF Night profiles are available for a qualified user to unlock.
There are no prizes for guessing that the UHD550X isn't flawless, and though the Sony VPL-VW550ES is undeniably more adept at 4K HDR, the £8,000 saving makes it a whole lot easier to accept the trade-offs. We did notice a rainbow effect on the rare occasion - I only remember seeing it twice in over 30 hours of viewing - and on the whole, watching movies and Netflix on the UHD550X has been a satisfying experience.
Summary
...there's a good chance the higher contrast ratio of the UHD60 and UHD65 will help iron out some of the UHD550X's wrinkles...

Optoma has breathed new life into the 4K projector market with a trio of models priced from £1,999. At the entry-level end of the scale, the tempting UHD550X puts 4K clarity and HDR compatibility within reach of mainstream users.

There are limitations to be aware of - black levels aren't the best, and HDR results are good but not great - yet the fact that the UHD550X delivers so much at this price point comes as a pleasant surprise.

A no-brainer for anyone looking to upgrade from a 1080p model? Perhaps, although there's a good chance the higher contrast ratio of the UHD60 and UHD65 will help iron out some of the UHD550X's wrinkles and further enhance the HDR experience.

Bottom line: whichever 4K Optoma you choose, there's now a genuine reason to consider a projector instead of a TV in the sub-£3,000 space.

The Good

The Bad

4K and HDR for under £2,000
Competent HD upscaling
HDMI 2.0 with HDCP 2.2
Image size dwarfs any current TV

Contrast could be better
Big and bulky chassis
Doesn't support 3D




Optoma UHD550X




HEXUS.where2buy*

The Optoma UHD550X DLP Home Entertainment Projector is available to purchase from Scan Computers.

HEXUS.right2reply

At HEXUS, we invite the companies whose products we test to comment on our articles. If any company representatives for the products reviewed choose to respond, we'll publish their commentary here verbatim.