Introduction
A 4K projector is the ultimate addition to a home cinema, yet while the likes of the Sony VPL-VW550ES have left us spellbound through dazzling visuals, costs remain a major obstacle for the average consumer. The aforementioned Sony fetches a cool £10,000 at retail, and the 4K entry fee has remained prohibitive... until now.
Multiple big-name manufactures are introducing more affordable solutions in the fourth quarter of 2017, and Optoma is leading the charge with a trio of new models priced from £1,999. Said fee is comparable to that of an 55in OLED TV, but the option to super-size your movie nights holds genuine appeal, so can an entry-level 4K projector deliver the goods?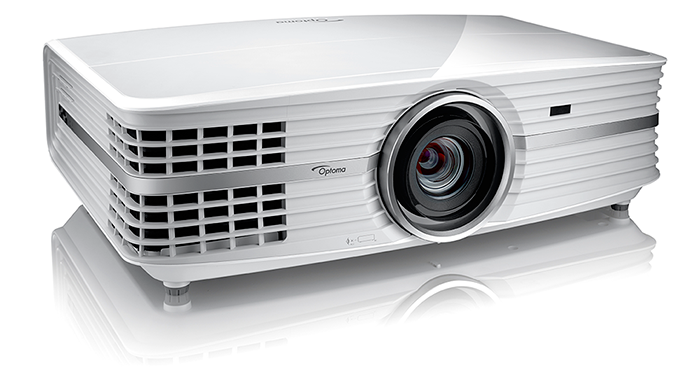 To help bring ultra-high-res projection to a wider audience, Optoma's three options include the UHD550X, UHD60 and UHD65, priced at £1,999, £2,499 and £2,999, respectively. The price tags alone will have home-cinema enthusiasts champing at the bit, but do choose carefully as each model carries its own unique characteristics.
At the lower-end of the scale, the UHD550X touts a contrast ratio of 500,000:1 and a brightness of 2,800 ANSI lumens. The mid-range UHD60 increases contrast ratio to 1,000,000:1 and brightness to 3,000, while the range-topping UHD65 touts a contrast ratio of 1,200,000:1 and a brightness of 2,200.
The latter, available only in black, employs a different colour wheel to prioritise contrast over brightness for use in a dedicated home cinema environment, while the former duo are finished in white and geared for living-room suitability. Crucially, the UHD65 includes PureMotion frame interpolation image processing, which while beneficial during fast-paced scenes, increases input lag to 78ms, making it less suited to gaming. The UHD550X and UHD60, meanwhile, measure input lag at a more reasonable 55ms. We have the intriguing UHD550X in for review today.
Affordable 4K Projection
Despite being the most basic model in Optoma's 4K UHD portfolio, the UHD550X comes equipped with the same DLP imaging device as its brethren; a single-chip design from Texas Instruments that boasts a native 2,716x1,528 resolution and XPR (eXpanded Pixel Resolution) technology. XPR works by exploiting the fast switching speed of the DLP chip to display two individual pixels for each of the 4 million mirrors, helping deliver the requisite 8.3 million pixels (3,840x2,160).
A shrewd method of meeting the Consumer Technology Association (CTA) requirements for both 4K UHD and HDR compatibility while keeping pricing down to an absolute minimum. You also get HDCP 2.2 support via HDMI 2.0, as well as a pair of basic integrated speakers, and the only major omission from Optoma's feature set is support for 3D. This could be a deal breaker for some, though given that 3D content does little more than give me a headache, it's not something I'm personally going to miss.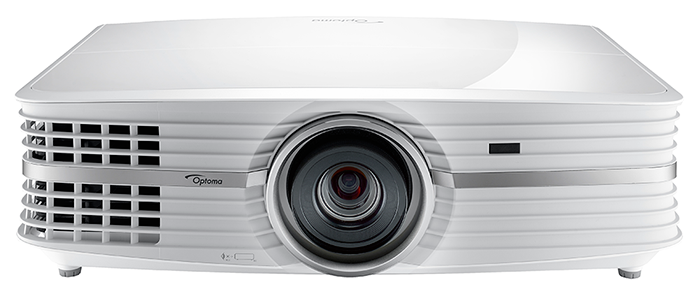 Remove the UHD550X from the box and the first thing you'll notice is how large the projector is compared to regular 1080p models. Dimensions come in at a 498mm (W) x 331mm (D) x 141mm (H) - yes, it does measure practically half a metre in length - and though the 7.8kg weight is relatively light, the sheer bulk makes it a substantial piece of kit.
The second impression is likely to be one of "wow, this feels flimsy." And it does. The glossy white chassis is almost entirely plastic, the lens cap feels lightweight and is held on by string, while the plastic top cover that lifts open to reveal the manual zoom and lens shift controls creaks tentatively into position. This is clearly a case of keeping costs in check, so it's no surprise to find that the supplied backlit remote is repurposed from previous models, despite the fact that buttons for 3D and Keystone serve no purpose on the UHD550X.
Setup
One hurdle facing would-be buyers is how to get a projector integrated into the home. It is considerably more complicated than a TV, for obvious reasons, and whereas premium models tout niceties such as automatic calibration, motorised zoom and lens shift in all directions, Optoma's budget 4K solution takes a more modest approach.
The UHD550X is capable of projecting an image of between 27in and 302in, at a distance of 1.3 to 9.3m, however the manual lens offers no horizontal movement and vertical shift is limited to +15 per cent, meaning only downward adjustment. There's no keystone correction, and given the size of the projector, getting it mounted and aligned to your wall/screen may require a little extra thought and planning.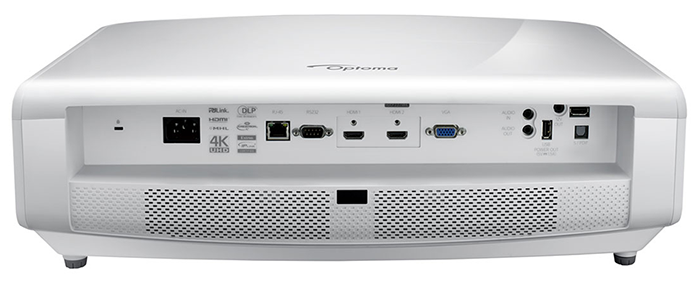 Four rubber-tipped, tilt-adjustment feet help alignment when sat atop a table, and IR receivers on both the front and rear ensure the remote control will work from just about anywhere in the room. Optoma neatly tucks all the I/O options around back, and these include a connector for the supplied power cable, Ethernet, RS232, HDMI 1, HDMI 2, VGA, audio in and out, a 12V trigger, USB service port, USB power out and S/PDIF. Everything you'd expect to find, though do be aware that only the second HDMI input supports the 2.0 specification, so this is the port to use for your 4K60 content.
The vents do a good job of expelling heat, and we're pleased to find that the internal fans aren't overly loud. You can hear the projector when it's up and running, and we'd still recommend a hush box where possible, but it is quieter than some of the older models we've experienced and noise levels can be further reduced by switching from bright mode to eco. Optoma's overall design doesn't serve up any major surprises, and a power-draw reading of 260 watts during use is in line with expectations, but the big question is whether or not the UHD550X can punch above its price point in terms of visuals.