Gaming Credentials
The W1210ST has one trick up its sleeve that makes it a better-than-expected choice for gamers. Enter Fast Mode. Standard movie projectors suffer from a reasonable input lag that's not readily apparent when watching a movie. However, when playing fast-paced games, a long input lag is possibly the easiest means by which to spoil the gaming experience. You will know exactly what I mean if you have tried playing a first-person shooter on a mediocre projector.
Playing a fast-paced game, such as Doom, in regular, non-Fast mode is still a reasonably satisfying experience. Fast pans and quick turns do expose the longer input lag than what is now considered normal on a TV, and I became increasingly exasperated at the noisome combination of a lack of skill on my part, which was quickly put down, most likely inaccurately, to longer input lag.
Fast Mode to the Input Rescue
Modern TVs and computer monitors are cut from the same input-lag cloth, meaning that high-quality screens often have a quoted lag of around 20-30ms, or levels that aren't readily perceptible to the user. I'd be happy enough gaming on a screen with a sub-33ms input lag. BenQ mimics such alacrity with the Fast Mode sub-option contained within the W1210ST.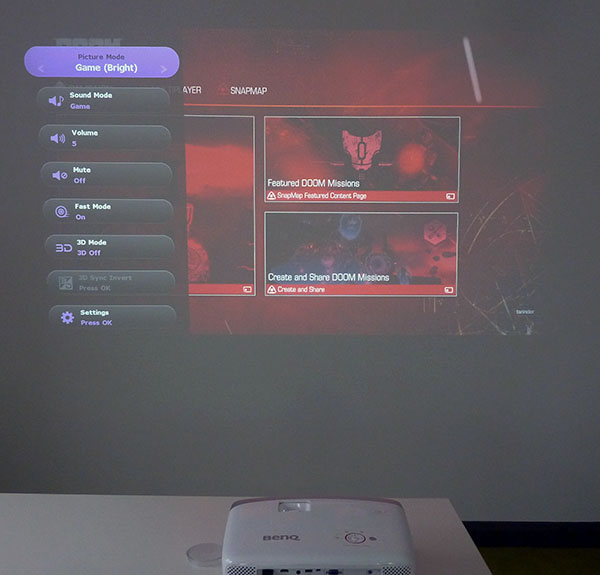 Setup is very easy; it's a plug-and-play projector
Switching it on does make a tangible difference. Super-quick movements feel that fraction quicker; your weapon moves just when you expect it should, and going back to a non-Fast mode highlights the differences. They can be subtle in some games but I'd always game with it on. The overall feel is akin to gaming on a decent LCD TV or monitor, and that is the result that BenQ is hoping to achieve here.
So what's really happening under the hood? Fortunately, I can use the Leo Bodnar Input Lag Tester to provide empirical data to back up any claims of reduced lag. The device is used to measure the delay (latency) in which it takes a video signal to pass from the point of input until it is displayed on a television, monitor or projector screen, and its results are actually a little higher than the pure input lag because it also measures pixel response time.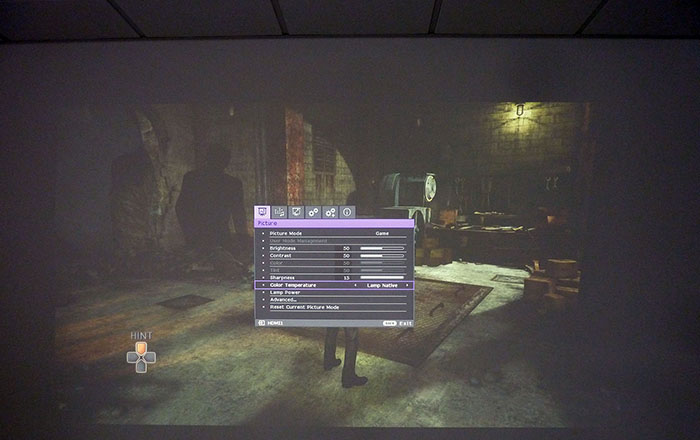 The advanced menu has a plethora of options. Tweak to your heart's content
To that end, I measured the Fast Mode's input lag at 21ms, compared with 25ms for my Sony 55X8505C 4K LCD TV, with both run at 1080p, thus verifying that it was a severe lack of skill, rather than input lag, that was causing me to be cut down by the baddies in Doom. Switching it off raises the lag to 47ms.
Playing through a few other games also offers LCD-like input-lag performance, so the BenQ W1210ST is a fine choice for the gamer who wants to play on a 100in-plus screen. There's something just grin-worthy about running amok on a 10-foot-wide canvas.
Of course, being a single-chip DLP projector means that, even near a grand, it's limited to the 1,920x1,080 resolution surpassed by the latest iterations of the Xbox One and PlayStation 4 consoles. Upping the resolution ante is hugely prohibitive when framed in cost, as you rarely get change from £5K if going down that route.
Conclusion
The rise of large flat-screen TVs has put projectors in something of a tight spot, and manufacturers have had to reimagine the home projector by adding more features. The BenQ W1210ST short-throw is a good example of such innovation. Plug and play by nature, the 1080-resolution projector takes less than five minutes to set up and provides an enjoyable big-screen experience. Sure, the picture may look a little flat compared to the best TVs but gaming on it, thanks to its well-implemented Fast Mode, is a pleasure.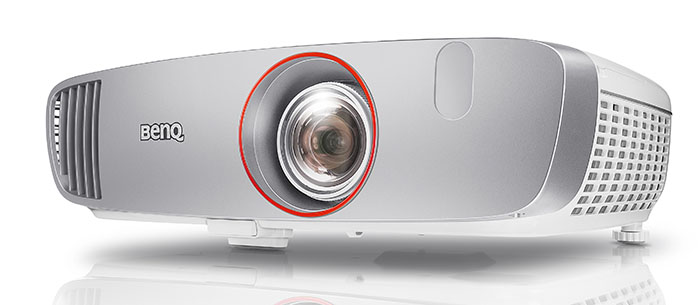 I don't see this projector competing against my 55in TV; I see it more as a companion display when I went to go big, really big, on movies and games. Spending getting on towards £1,000 on a projector requires careful thought, yet if you have the space to make the most of it, the BenQ W1210ST is a solid choice.
The Good

The Bad

Easy to setup
Great configurability
Solid build quality
Fast Mode genuinely works
Big-screen fun



Images still look a little flat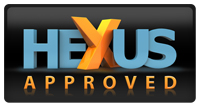 BenQ W1210ST
HEXUS.where2buy
The BenQ W1210ST projector is available to purchase from Amazon UK.
HEXUS.right2reply
At HEXUS, we invite the companies whose products we test to comment on our articles. If any company representatives for the products reviewed choose to respond, we'll publish their commentary here verbatim.