Introduction
The price of big-screen LCD TVs has dropped dramatically in recent years. It's now eminently possible to buy a 50in, 1080p TV for £300 or so, and even stepping up to a 4K resolution is possible for under £500.
It's with this backdrop that projectors have their work cut out. Their chief attribute of larger size has largely been taken away, unless you have room for a 100in-plus screen, and input lag is such that games don't, quite literally, play as well as on a decent LCD TV.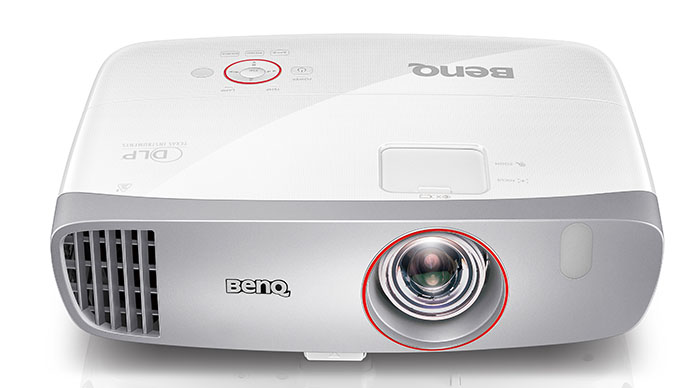 Yet there's always a niche to be found if you look hard enough. A projector company selling a short-throw model with a low input lag, thus prioritising gaming on the biggest screen possible, would make sense. It's is with these two attributes in mind that today I take a look at the BenQ W1210ST.
Design, features and build
The 1080-capable W1210ST is a good-looking unit that uses single-chip digital light processing (DLP) as a means of getting the image on to a screen. Being a short-throw projector is handy when used in confined spaces - as much of the UK rooms are - and one is able to fill a 100in screen with the projector sitting just five feet away. In other words, getting the real big-screen picture should be possible in most rooms.
There are obvious similarities between this and the W2000 model released last year and the older W1110 which is a couple of years old; the trio uses the same casing measuring 380.5mm wide, 277mm deep and 121.7mm high. At 3.6kg and supplied with a nice carry bag, this one is portable enough to be moved around easily and conveniently.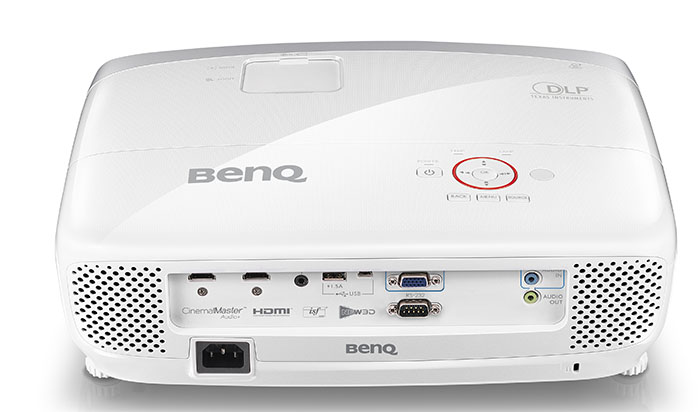 Build quality is solid, as you would expect on a unit priced at around £850. The red ring around the lens at the top is a nice touch, and BenQ adds in the usual roster of connectivity options. There's two HDMI (one of which is MHL-compatible), D-Sub, both audio in and audio out, RS232 (old-school, eh?) and two USB ports. A three-pin power connector is needed because the W1210ST features a powerful 240W lamp. All told, the unit chews through up to 350W in operation.
And that's why you see liberal use of ventilation holes around the unit. There is obvious, always-on noise coming from the unit - it sounds much like a modern PC - though the effect isn't as bad as on older projectors because BenQ uses large, slower spinning fans than on projectors I've previously used. Most of the heat is kicked out from the right-hand side, as you look at it from behind.
The noise level is linked directly to the mode it is used in. It's loudest in Normal and becomes progressively quieter when dialled into Eco and Eco Smart, and I'll talk more about these later. The fan also remains on for about a minute after the projector is powered down.
Appreciating this is aimed at gamers who will likely play with headsets or have loud(er) music, noise shouldn't be an obvious issue. The unit features 2x10W chamber speakers but I wouldn't bother with these; they sound tinny and anyone pairing this up ought to have dedicated audio.
Back on the lamp, the W1210ST is able to output 2,200 lumens, offer a 15,000:1 contrast ratio, and produce just over 1bn colours. Lamp life is an important consideration if shelling out a large chunk of change for this type of kit, and while I have no accurate way of verifying BenQ's claims myself, the unit delivers an estimated 3,500 hours in Normal mode, rising to 5,000 hours for Eco and a solid, satisfying 7,000 hours on Smart Eco - that's almost an entire year of 24/7 usage. A replacement lamp costs around £250.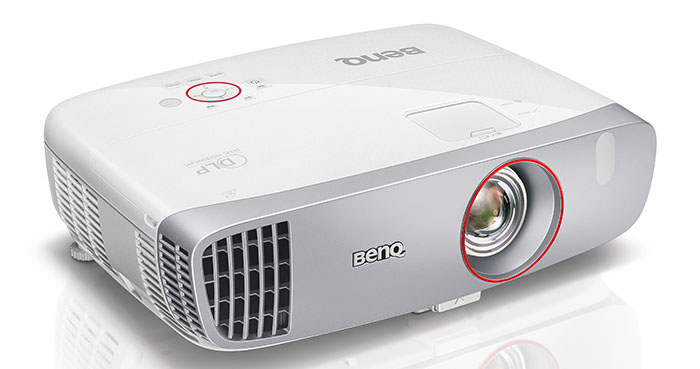 In terms of getting it setup just right, the feet at the back can be raised by turning the heads around. There's also a small drop down sufficient to get the image to where you would ideally like it, and this is in place of the vertical-shift alignment present on previous models. I would encourage BenQ to have more scope for rear adjustment. Leading on from this, a near-perfect setup is possible because there are zoom and focus functions hidden under a push-back cover near the front.
The short-throw distance means you have to play around with the unit to ensure that it mates the screen well. Those with big rooms - my lounge is 18ft long - can create images that take up an entire wall, or better still, a dedicated white screen. This is really where I see projectors excel, at sizes that no TV can get near.

If you don't want the hassle of dragging long HDMI wires from the source to the projector, and who does?, BenQ offers an optional wireless HDMI kit that retails at an eye-watering £325. Handy if you must keep cable clutter to a minimum.
Setting up, in use
Getting the projector up and running is easy enough, though it's always one of striking a balance between the black levels and detail. Here is where the bundled backlit remote control comes in, enabling you to initially keystone and toggle further options with ease.
The W1210ST uses a six-segment (RGBRGB), six-speed wheel to deliver images to the screen, which does well at mitigating the rainbow effect that afflicts budget DLP projectors, where flashes of red, green or blue are seen on top of very bright objects. It works well because I saw no obvious effect during a weekend's testing.
Going with a Cinema preset with brightness set to 50 and lamp in Smart Eco mode gives a solid picture when fed through a Sony Blu-ray player. Punching up the brightness a notch or two in a semi-darkened room helps, certainly with shadows, yet the effect on a 100in projection isn't nearly as razor-sharp as on my Sony 55in 4K TV, understandably. As is common on projectors, it feels a little 'flat'.
Brightness is above average for a projector, with plenty of heft and punch for the picture, and when viewed from an appropriate distance away, 1080p content looks exactly that, high resolution. Yet while the W1210ST is more than serviceable as a cinema screen, that's somewhat missing the raison d'être. It's designed and optimised for large-screen gaming above all else.
You see, the W1210ST is also imbued with Game and Game Bright modes, where, as the name suggests, the projector ups the brightness ante to compensate for rooms that aren't purposely blacked out. I found that using it during daytime in a lounge with the curtains drawn, Game Bright was the best setting for, well, gaming, because it provided a necessary boost to colours.