Lenovo hosted a lengthy presentation last night where it showed off a range of tech products and prototypes. The Lenovo Tech World press conference was held in San Francisco and featured technology and products under both the Lenovo and wholly owned Moto brands. You can see the full 2-hour presentation here (and emebdded below) but I'm going to summarise it and the highlights in the next couple of news articles here on HEXUS. This first news piece is about the prototypes and innovative tech presented last night. The next news piece will cover the smartphones from Lenovo/Moto.
Unbreakable screens
After the inevitable blurb about the IoT, Lenovo demonstrated "a screen that won't break". (main video 9mins 20s) The presenter dropped a smartphone featuring the screen onto a stone/tiled area, from about 6ft, no problem. Next, Ashton Kutcher ran onto a platform above the stage and carelessly dropped a smartphone onto the same test area and again it was apparently unharmed.
Bendy devices
We've been waiting for bendy phones and tablets for a while, it seems like electronics giants LG and Samsung have showing off flexible and bendy electronic components and so on at trade shows for a couple of years now... Flexible products based on such tech looks to be another step sloder to fruition as Lenovo demonstrated such wares last night.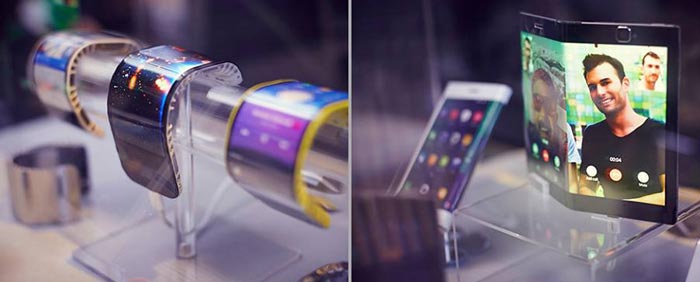 A helium-voiced 'YouTube superstar' called Megan helped Lenovo demonstrate the 'elimination of the hinge' (main video 11mins 45s). She said she had nowhere to put her phone, as her dress had no pockets. Then she simply moulded the phone around her wrist – you could hear several clicks like someone cracking their finger joints. Now the smartphone had transformed to look like some kind of expansive wrap around smart-bangle.
Next Megan picked up what looked to be a tablet, probably and 8-inch sized model. 'Great for watching cat videos' she observed. Like the smartphone previously this device features a flexible hinge mechanism, and in this case it folded over into a smartphone, 'ideal for serious business calls'.
Intel CEO plays a VR wizard
Next up Brian Krzanich, the CEO of Intel took to the stage to play on a VR system which used a Lenovo Ideacentre Y900 PC and Oculus Rift with Touch controllers (main video 16mins 40s). He played 'The Unspoken' and basically just threw fireballs at the Lenovo CEO, across a dark dilapidated city street, for a couple of minutes.
Smart Shoes
Lenovo claims its smart shoes "keep you healthy, stylish and fit". This footwear doesn't just provide the usual activity tracking, Lenovo has implemented gaming functions and LEDs. These use Intel processors so it was only appropriate to gift a pair to Mr Krzanich. We don't know when these will go on sale.