As expected, Google launched a pair of new Nexus smartphones last night at an event in San Francisco. Nexus fans will have the choice between the 5.7-inch Nexus 6P, made by Huawei, and the 5-inch Nexus 5X, made by LG.
Both smartphones boast new technology such as a fingerprint sensor (Nexus Imprint) and a USB Type-C port. Android Marshmallow will come installed on the Nexus 6P and Nexus 5, which will cost from $499 and $379 respectively. Pre orders for the devices open today in the US, the UK, Ireland and Japan.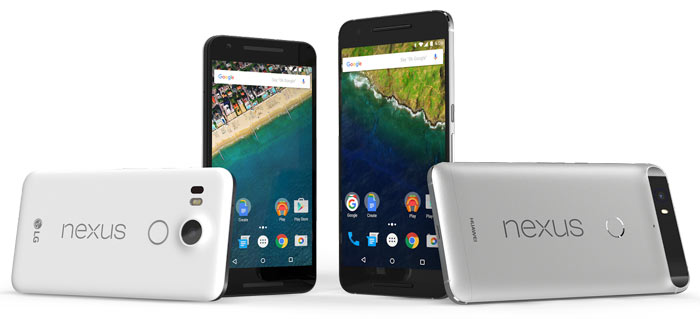 Huawei's Nexus 6P is the first all-metal-body (aluminium) Nexus. Google says that this smartphone offers its best camera yet, it offers 12.3MP from a sensor "with massive 1.55µm pixels". As mentioned above, pricing starts from $499, for the 32GB version rising to $549 for 64GB and $649 for 128GB. Your choice of built-in storage could be important as there is no microSD slot. I've reproduced the full tech spec list below for your perusal:
5.7-inch AMOLED screen with Quad HD (2560x1440px) resolution, 518ppi
Gorilla Glass 4
64-bit Qualcomm Snapdragon 810 v2.1 octa-core processor
3GB RAM
32GB / 64GB / 128GB storage options
12.3MP rear camera with f/2.0 aperture, infrared-assisted autofocus and 4K video recording
8MP front-facing camera
Type-C connector
Fingerprint sensor
Dual-front speakers
3450mAh battery - 10 minutes of charging provides up to 7 hours of use
159.4 x 77.8 x 7.3mm; 178g
LG's Nexus 5X is here because "you're not the only one who misses your Nexus 5," says Google. This more compact device sports a 5.2-inch screen, with the same 12.3MP camera / sensor and Type-C port as on the 6P.
The Nexus 5 will be available with either 16GB or 32GB of built-in storage, priced at $379 and $429 respectively. Again there is no microSD card expandability.
5.2-inch LCD with Full HD (1920x1080px) resolution
Gorilla Glass 3
64-bit hexa-core 2GHz Qualcomm Snapdragon 808 processor and Adreno 418 GPU
2GB LPDDR3 RAM
16GB / 32GB storage
12.3MP front-facing camera with f/2.0 aperture, infrared-assisted autofocus and 4K video recording
5MP front-facing camera with f/2.2 aperture
Fingerprint sensor
microUSB Type-C connector
Dual-front speakers
2700mAh battery - 10 minutes of charging provides up to 4 hours of use
147 x 72.6 x 7.9mm; 136g
Pre-order customers for either smartphone will get a free 90-day subscription to Google Play Music, and a $50 Play Store credit (in the US). Google is also making a 'Nexus Protect' insurance plan available for $89 with the Nexus 6P and $69 with the Nexus 5. This payment provides two years replacement cover for a phone you have accidentally damaged, with next business day speed.
Android 6.0 Marshmallow
While the above two new smartphones will ship with Marshmallow pre-installed, the official rollout of this new mobile OS starts from 5th October. Next week Nexus devices such as the Nexus 5, Nexus 6, Nexus 7 (2013), Nexus 9 and Nexus Player will be able to update to the new mobile OS. However, as noted by Android Police, the arrival of Marshmallow won't be toasted by owners the Nexus 4, 7 (2012), and 10 which are deserted, hwo will be left behind with Lollipop.