The makers of the Zanco tiny t1 claim that it is "officially the world's smallest mobile phone". This fully functional diminutive mobile phone is now featured on Kickstarter and is very popular with the community. Clubit New Media Limited, the firm behind the project, has successfully raised over £100,000, that's 4x the original funding goal, and there are still 20 days to go.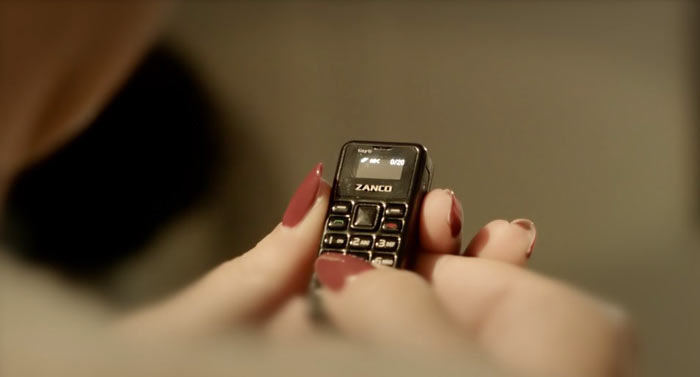 If you want a compact and light phone for occasional or backup use that can do talk and text then the Zanco tiny t1 might appeal. Its available to backers from as little as £35 but as there are plenty of well known, ergonomic, dumb phones already available on the market, the t1's miniature size and negligible mass must be a priority for it to be a serious choice.
Looking through the numbers, the Zanco tiny t1 measures 46.7mm long, 21mm wide, and 12mm thick, this is indeed smaller than my thumb... It weighs just 13g, so is a smidgeon heavier than a Sharpie marker pen. Of course it justifiably uses a nano-SIM. Despite its size it packs a fully functional backlit 0-9*# dial pad plus directional pad, menu keys, and quick keys for answering and hanging up the phone. It features all the essentials to operate as a mobile phone like speaker and microphone, and even a 12.5mm OLED screen for menus and messages.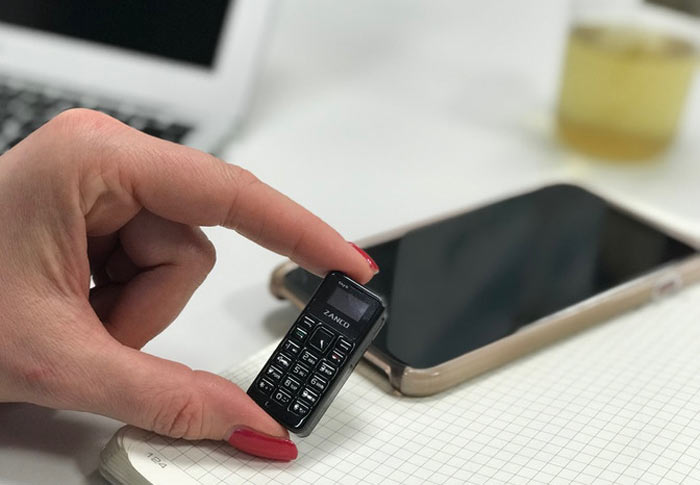 The t1 can save 300 phone numbers, remembers the last 50 calls, and stores the last 50 SMS messages. Interestingly it includes 13 voice changers and can handle multiple midi / melody ringtones. Inside this 2G-only phone, powered by a MediaTek processor, there is 32MB or RAM and a 32MB ROM. You charge this mobile via a standard Micro USB adapter and the battery life (200mAh capacity) is said to be 3 days of standby / 180 mins of talk time.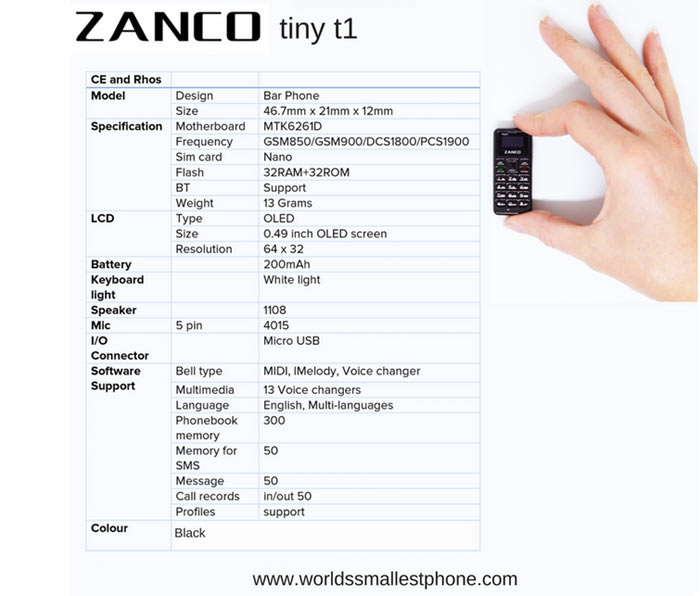 Prison phones?
In related news the UK government recently asked Amazon and eBay to cease sales of tiny 'prison phones'. Such devices can be more easily smuggled into prison where they can be sold on for up to £500 a time, reports Engadget.