Earlier this month we saw a mid-range triumvirate of smartphones launched by Nokia. The Nokia 3, 5 and 6 are all destined to arrive in the UK in the next few weeks. However, the middling specs didn't set HEXUS readers' hearts a flutter as there are so many similar devices out there by other brands. A couple of days after that availability news we heard that Nokia had rekindled their old special (exclusive) relationship with Zeiss optics which gave hope for some imaging differentiated higher-end devices coming along in the future.

Now prolific smartphone leaker Evan Blass has shared some images of a purported Nokia 8 smartphone, and he provides a smattering of specs too. Firstly, on Twitter, Blass provided a close-up of the dual lens camera system with Zeiss branding.
In a follow up on the Venture Beat blog, Blass shared a crystal clear product shot of the front and back of the new Nokia 8. This sleek looking device carries the design language seen in the mid-range devices we talked about earlier in the month. Round the back we can see the dual-lens Zeiss camera.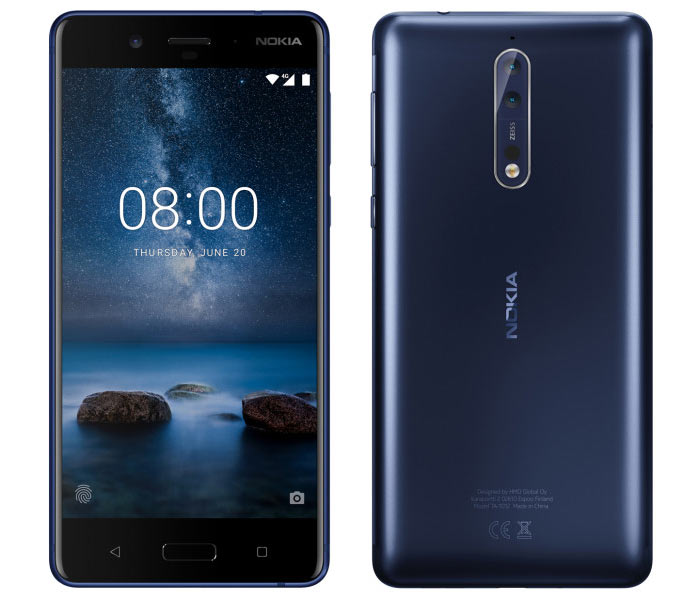 According to various sources the Nokia 8 will be announced on 31st July. It will be based around a 2.5D 5.3-inch QHD screen. Inside you will find it is equipped with a Snapdragon 835 chipset plus either 4GB or 6GB of RAM. That rear camera is said to be a combination of 2x 13MP cameras, probably with different focal lengths.
If you are wondering about the price, some sources indicate a €589 RRP (about $675 or £523) in Europe. The Nokia 8 is expected to come in blue (pictured), steel, gold/blue, or gold/copper.