Nokia's MWC 2017 presentation was dominated by the re-birth of the Nokia 3310 dumb phone. This is already available in the UK priced around £40 to £50, and it got a new see-through retail box yesterday. Probably more relevant to many, however, are the range of Android handsets that Nokia launched, the Nokia 3, 5, and 6. This trio of smartphones are about to be released in the UK over the next few weeks. Android Nougat comes pre-installed on all these new handsets.
First to arrive on these shores is the Nokia 3. This is the low end model and will be made available at an RRP of £120. In terms of specs this offers a 5-inch 720p display, a quad-core MediaTek chip, 2GB of RAM, 16GB of storage and 8-megapixel cameras, front and back, and a polarised Gorilla Glass screen. The Nokia 3 features Nokia's "classic design hallmarks" such as a sculpted polycarbonate back, and a solid-feeling aluminium frame.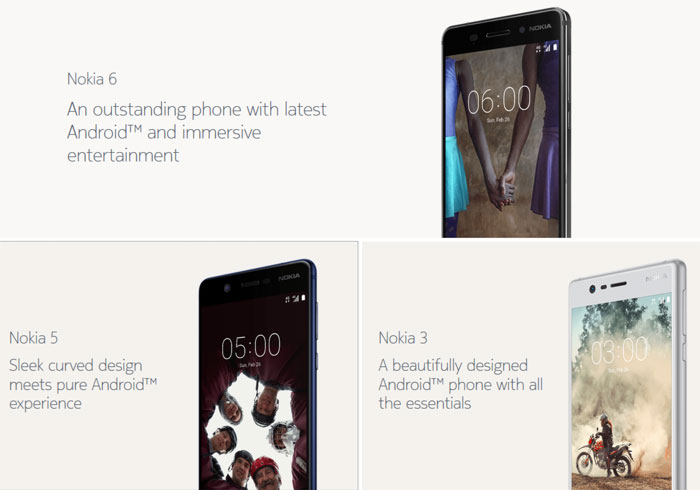 Nokia will follow up with the launch of its new flagship, the Nokia 6, on 2nd August. Priced at £220 it offers decidedly mid-range specs compared to other companies, but the price reflexts this to some extent. It is powered by a Snapdragon 430 chip, and paired with 3GB of RAM and 32GB of storage. The design is based around a 5.5-inch Full HD screen coated with Gorilla Glass. For cameras you will get a 16MP main camera with dual-tone flash and an 8MP selifie cam. For convenient device access there's a fingerprint reader built-in.
Engadget reports that there will also be a limited edition 'Arte Black' version of the Nokia 6 "which boasts a glossy paint job, 4GB of RAM and double the standard storage," but that doesn't have a UK release date or price as yet.
Last to hit the shops will be the Nokia 5, on 16th August. It is priced at around £180. Specifications-wise it sits nicely between the other phones in the range, predictably, but its size is also somewhere between those two devices with its 5.2-inch polarised HD screen with Gorilla Glass coating. In other tech specs there's a Snapdragon 430 SoC, 2GB of RAM and 16GB of storage. Photography fun can be had with the rear 13MP camera and 8MP selfie camera. For convenient device access there's a fingerprint reader built-in.