Smart device and VR HMD maker HTC has announced that it will launch the HTC U flagship smartphone on 16th May. HTC has published a countdown website for the event (18 days to go). Promotional material and videos for the upcoming event tease a key differentiating feature for the new smartphone - a squeezable frame for quick and intuitive UI interaction. The launch event will run simultaneously in Taipei (2pm), London (7am) and New York (2am) on 16th May.
As you can see in the video embedded above, HTC suggests that you "squeeze for the brilliant U". According to various reports, HTC has embedded sensors in the frame of the HTC U and these allow it to read squeezes, strokes and so on applied by the holder.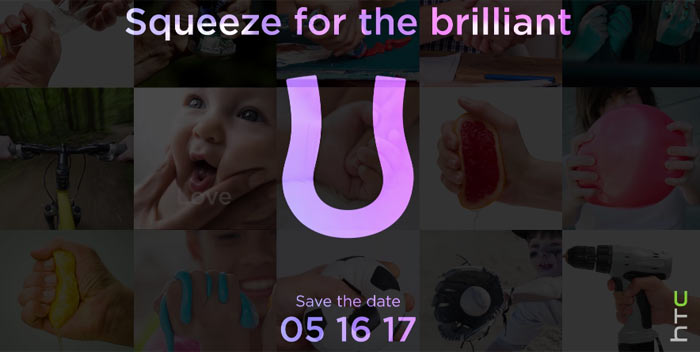 Smartphone leak specialist Evan Blass reckons the HTC U includes tech previously teased in a device codenamed the 'HTC Ocean'. Early details of the HTC Ocean with Sense Touch were revealed last year.
Beyond the above special feature of 'Edge Sense' the HTC U is expected to pack the following specs:
A 5.5-inch QHD (2560 x 1440) display
Qualcomm Snapdragon 835 SoC
4GB of RAM
64GB storage
12MP IMX362 main camera, 16MP IMX351 on the front
3000mAh battery
No 3.5mm headphone socket
Will 'Edge Sense' help the HTC U stand out among the flagship smartphone crowd? Specs alone cannot indicate how well the technology is implemented and how well it will work in practical day-to-day usage. It's probably wise to check out numerous reviews after launch, or even try out the squeezable frame UI yourself in a store before you order.