As expected, Nokia has re-introduced its iconic 3310 mobile phone during its MWC presentation. The Nokia 3310 mobile phone has been revamped for 2017 with a colour screen, a 2MP camera on the back, a microSD card slot, and more - while retaining the fabled "awesome battery life". Nokia / HMD also announced some Android smartphones and talked again about its OZO VR camera (which it used to film the whole MWC presentation (Nokia 3310 unveil starts at 1hr 11mins).
Nokia hasn't just restarted the production line for the old 3310, if that would even be possible. The new Nokia 3310 is a warm homage to the old mobile sharing its curvy fun design and signature styling but updating it for 2017.
Probably the biggest change to hit you, when comparing old and new, is the 'big' colour screen on the 2017 edition. Keeping the same shapes within the shape Nokia / HMD has used the top area once shared by screen and speaker with the new 2.4-inch QVGA colour screen. Below this the physical trio of buttons reside but are now symmetrical. The keypad below is little changed except to provide slightly larger keys. The last thing about the appearance but also a big change is the eye catching range of colours the new phone is available in.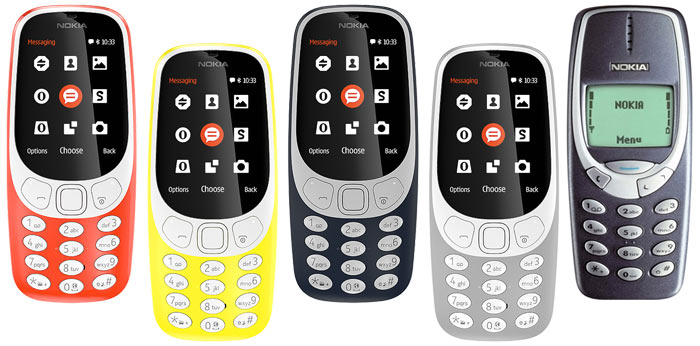 Size and shape is roughly the same as you can see in my composite picture, above. The only major change is the new handset is significantly slimmed down from 22mm to 12.8mm. With that comes a significant reduction in mass, as you can see below.
New 115.6 x 51 x 12.8mm, 79.6g
Old 113 x 48 x 22mm, 133g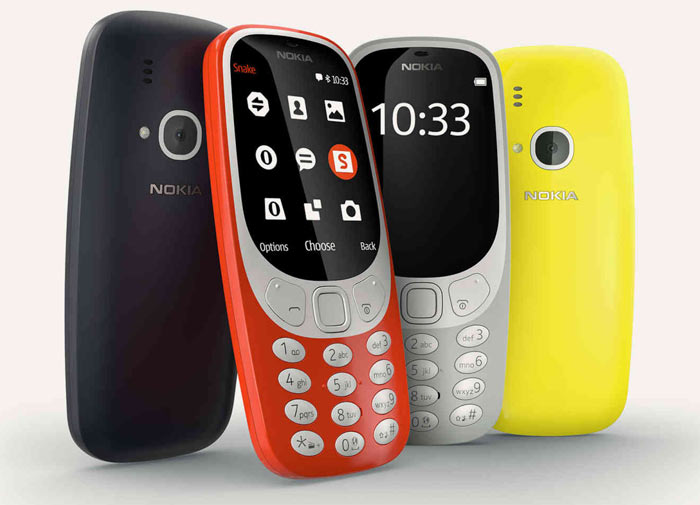 Since we've compared size and weight now, its probably a good time to list the tech specs of the new Nokia 3310:
Display: 2.4-inch QVGA
Storage: 16MB, plus microSD card support to 32GB
Camera: 2MP with LED flash
Networks: 2G, GSM 900/1800MHz (single and dual SIM variants will be sold)
Connectivity: Micro USB (USB 2.0), Bluetooth 3.0 with SLAM
Audio: 3.5mm AV connector, FM radio, MP3 player
Battery: Removable 1200mAh battery for claimed 31 day standby time, 22 hour talk time, 51 hour MP3 playback time.
OS: Nokia Series 30+
Colours: Warm Red (Glossy), Dark Blue (Matte), Yellow (Glossy), Grey (Matte)
Not mentioned in the raw specs above is that Nokia HMD have added a polarising layer to the colour screen to help make it clear and readable in sunlight. Another important aspect for this phone - the Snake game - has also undergone a revamp. Gameloft has reworked the game for full colour smooth animation.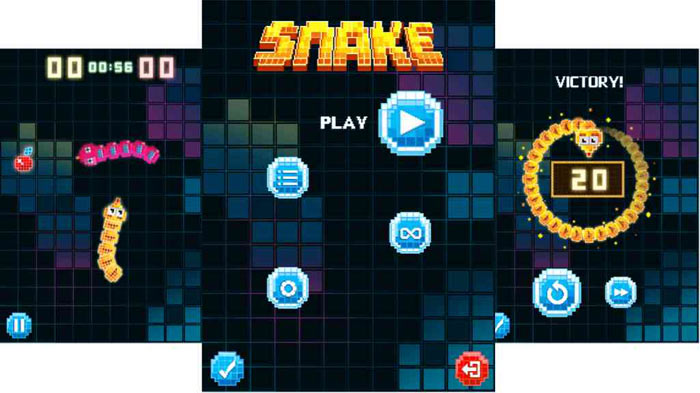 The new Nokia 3310 will retail for €49. Availability is yet to be announced.
In other Nokia / HMD news from MWC, the mid range Nokia 3 and Nokia 5 Android handsets were launched to join the Nokia 6.