LG continues to tease the hardware and software features of its upcoming G6 flagship smartphone. In recent weeks we have already learned that the LG G6 will feature a large but hand-grip friendly 18:9 display ("Big Screen, Smaller Body," as LG puts it). At the same time we heard that the smartphone features a heat pipe cooling system and is water proof. More recently LG reminded us that its choice of screen and construction has created a big screen device that fits your hand. So it looks like the device size/shape is thought to be a major selling point for the upcoming smartphone.
A few hours ago LG Mobile spilled another teaser for the G6. The 18:9 form isn't just good for single hand usage, it seems. LG looks to have tailored its UI for 'double square' multitasking, and in-app content splitting. With its particular 'FullVision' QHD+ panel (2,880 x 1,440 pixels) with 564ppi, the G6's screen can devote a perfectly square portion of its area to two functions / apps at once.
The new video above plays on this 'double square' theme within the LG UX6 experience. It shows a plethora of apps that play nicely with its appealing multitasking mode, such as; photos, calendar, and dialler. For example the 'square camera' allows you to take shots that are ready for Instagram while reviewing previous shots at the same time. In landscape mode the calendar splits to provide an overview in one square and selected date details in another.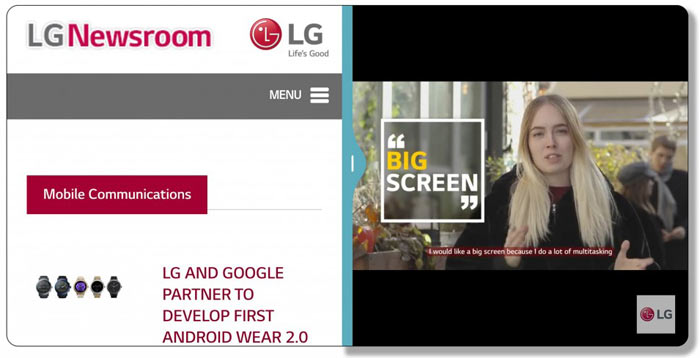 LG sounds very confident in its press release, which accompanies the new video. The new G6 smartphone is "expected to kick off an era of premium smartphones with 18:9 screen aspect ratios," it is claimed. Video and gaming content tailored for 18:9 is growing sharply, says LG. However, there will be a special mode available for making common-or-garden 16:9 ratio content adapt to the wider display.
The LG G6 with UX 6.0 will be launched at MWC 2017 in Barcelona on 26th February. Will LG be more successful this year than with last year's modular G5 design? Let us know what you think in the comments section.