Amazon has launched a new indoor home security camera simply dubbed the Cloud Cam. On the hardware side it sounds like a rather ordinary IP camera – it supports 1080p video recording, night vision, and two-way audio. It is on the software side Amazon pulls ahead of similar looking (but much cheaper at £30-ish) IP cameras from the likes of D-Link and TP-Link; thanks to its leverage of Alexa smarts, optional Amazon Key integration, and a useful free level of AWS storage.
Cloud Cam is said to work seamlessly with your Alexa smart home accessories such as Echo Show, Echo Spot, Amazon Fire TV devices, and Fire tablets. For example you can query Alexa simply by saying "Alexa, show me the [camera name]", or alternatively make use of Amazon's Android or iOS app for similar functionality on the go.
While out and about, you are likely to appreciate the (customizable) notifications sent from the Cloud Cam App. These might be triggered by the advanced motion detection and computer vision technology of Cloud Cam. AWS cloud power means that over time you will see more advanced detection, alerts, and other new features become available in the service and on the camera itself.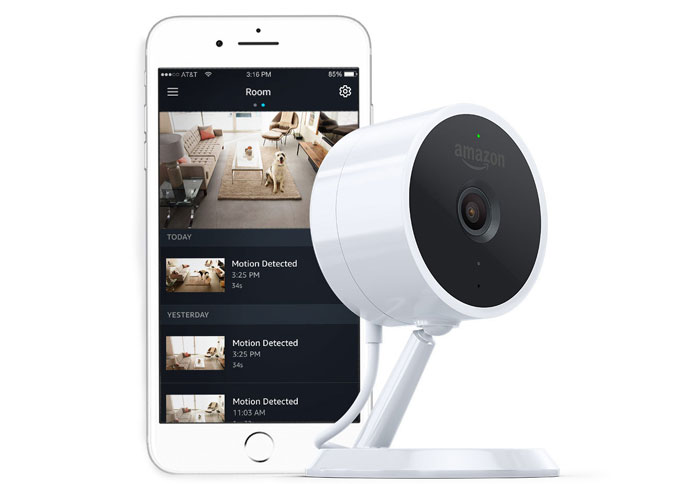 The last 24 hours of video clips will be stored securely on AWS cloud for free, with support for up to three cameras. Amazon is seeking to sell greater storage durations / camera feeds, person detection and ignore zones via subscriptions, which will be priced as following in the USA:
Basic ($6.99/mo, $69/yr) offers access to the last 7 days of motion detection clips for up to 3 cameras
Extended ($9.99/mo, $99/yr) offers access to the last 14 days of motion detection clips for up to 5 cameras
Pro ($19.99/mo, $199/yr) offers access to the last 30 days of motion detection clips for up to 10 cameras
I mentioned Amazon Key in the intro. The Cloud Cam can work with Amazon Key and a home smart lock to track deliveries into your home with the camera, allow you to watch the delivery live or catch up with a recording when you have time – with mobile notifications provided.
Amazon claims that "Cloud Cam is a premium product at a non-premium price," with its launch price of $119, duo pack at $199, trio-pack at $289 - or single unit bundled with an Echo Show for $299. The Amazon Cloud Cam will become available in the US from 8th November but you can pre-order it now. There is no word on UK pricing and availability as yet.