Nintendo's 3DS hadn't been fairing so well, launched with a premium price of £220 ($250), the portable 3D console saw an almost immediate price cut to £130 ($170) after exceptionally poor sales figures, in part due to the the high cost of the system but also largely due to the lack of strong release-day titles.
However, just in time for the holiday season, Nintendo's most popular in-house franchise, Super Mario, has now landed on the 3DS. Since the release of Super Mario 3D Land in the US on November 11th, 3DS sales have soared, seeing a rise of 325 per cent, with the game selling over 500,000 copies in but a few weeks, making this the fastest selling portable Mario game, ever.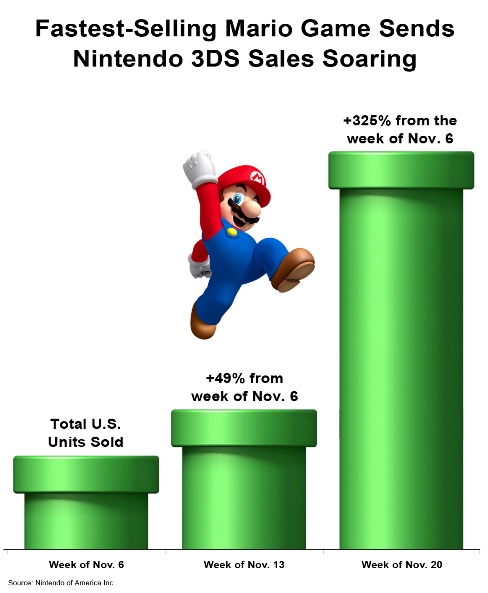 With Mario Kart and a new firmware release bringing 3D video recording and file sharing just around the corner, this could prove to be one exceptional close to the year for Nintendo's 3D portable and a great opportunity to rebuild the firm's portable user-base, which has suffered under the stiff competition from the smartphone market, which has been able to penetrate the portable gaming market with massive existing user bases, cross-functionality and high-end hardware.
It's not just the 3DS that has done well this month though, The Legend of Zelda: Skywards Sword for the Wii has already sold 535,000 copies since its release in the US only nine days ago, again, as with Super Mario 3D Land, makes this the fastest selling Zelda game ever, brining with it a boost in Wii console sales. Both Super Mario 3D Land and The Legend of Zelda: Skywards Sword received 9.5/10 and 10/10 review ratings from various review sites, showing that consumers still very much value high quality games, something that is often still lacking in smartphone titles.