Hollywood's Oscar ceremony may have claimed the majority of today's headlines, but UK residents might be more interested in the first-ever Google Street View Awards.
The awards, designed to generate greater interest in the Google service ahead of a UK-wide expansion of available imagery, were voted for by more than 11,000 users after a panel of experts had shortlisted locations for three unique categories; most picturesque street, best foodie street and best fashion street.
With the results in, the UK public has named York's The Shambles as Britain's most picturesque street. The Shambles, a popular tourist attraction, is lined with buildings dating back to the fourteenth century and has been deemed "uniquely British and visually charming".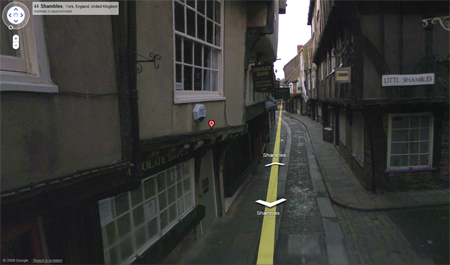 Now comprising of mostly souvenir shops and cafés, Shambles - which takes its name from the Medieval word Shamel, meaning booth or bench - had once featured over two-dozen butcher shops. To facilitate the slaughter of livestock, the pavements on both sides of Shambles are raised to create a channel through which butchers once washed away blood and waste.
Voted second and third as the Britain's most picturesque streets were The Royal Crescent in Bath, and Grey Street in Newcastle.
Meanwhile, the title of Britain's best fashion street was awarded to Milsom Street in Bath, with Stockbridge High Street in Hampshire picking up the award for Britain's best foodie street.
Google Street View provides 360 degree images of select UK roads and launched in the UK in March 2009, amid intense criticism from privacy campaigners.