TinkerBots, a new building set which was launched yesterday by Kinematics, has illustrated that modular robotics can be used in creating educational toy robots suitable for both children and adults. Its core aim is said to be for encouraging children to learn about electronics through play. The Berlin based programmable robot company is currently looking to raise $100,000 via international crowdfunding platform Indiegogo.
Described as "living Legos," TinkerBots is the latest education-focused product which enables children, as young as five, to easily create an endless number of toy robots that come to life thanks to the plug and play approach that ditches the need of wiring or programming. The kit utilises the fun element of building robots to influence and teach something more complex during game-play.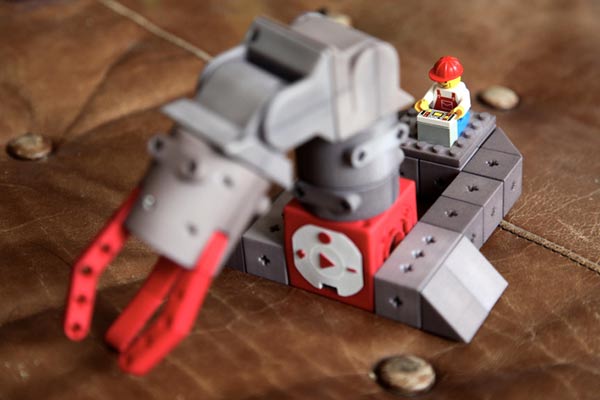 "You can really build anything with it," Kinematics CEO Matthias Bürger said, talking to Gigaom. "There's no other toy that can learn like this."
TinkerBots is compatible with regular Lego bricks using an adaptor block and can easily twist and snap together with the company's patented Power Brain, kinetic modules which support different types of movements such as twisting, pivoting and rolling, and passive pieces ranging from wheels to motors. Each robot build will require a power block (the red cube) to animate. The power block includes a battery, Bluetooth 4.0 connectivity, an Arduino-compatible microcontroller, plus other sensors such as gyro/accelerometer. Modular sensors such as ones featuring light detection and distance measurement can also be integrated into TinkerBots.

Some TinkerBots components
TinkerBots learn or are remote controlled
The robot animates by repeating movements which are manually 'taught' and recorded by the user using its integrated record mode. The robot is then able to repeat the movements when users hit play. However, Kinematics also intends to provide a remote control app which is compatible with TinkerBots toy robots. Remote control makes the robots another kind of toy altogether.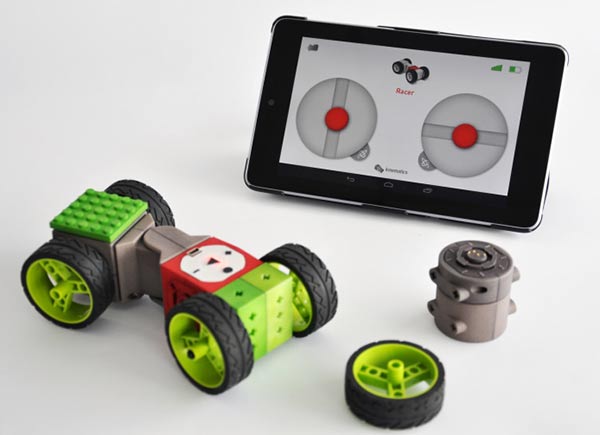 "Kids don't just build the model you show them. They use their own creativity and come up with something totally different," Bürger said. "You can't believe what they come up with," he enthused.
A basic TinkerBots kit is priced at $159, but depending on how many pieces you opt for, prices can go up to $400 for a 'Sensoric Mega Kit'. Pre-orders are available now with an estimated shipment date sometime in December 2014, hopefully ready for the holiday season.
The TinkerBots Indiegogo project is currently half way to its $100,000 goal after just one day.