Canon has announced a new addition to its line of SELPHY compact photo printers. The headline feature of the new SELPHY CP900 is that it can print out your (up to 4 x 6 inch) photos via wireless connection, allowing users to "print from almost anywhere". The convenience and portability of this wireless printer is further enhanced by the optional battery pack and charger.
Computers on the same wireless network as the SELPHY CP900 can print to it directly and compatible Android and Apple smartphones and tablets can utilise the Canon Easy-PhotoPrint mobile app to print stored images wirelessly to the SELPHY CP900 printer. "The addition of Wi-Fi connectivity offers users the flexibility and convenience to print from a variety of situations without sacrificing the overall quality of the output," said Yuichi Ishizuka, executive vice president and general manager, Imaging Technologies & Communications Group, Canon U.S.A.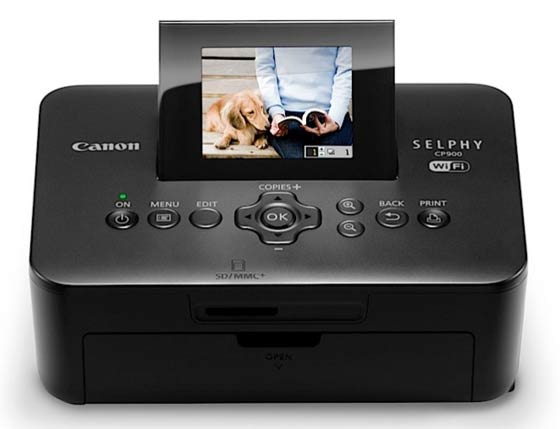 SELPHY printers use dye sublimation technology with a resolution of 300 dots per inch. While this sounds low compared to modern ink-jet and laser printers printing resolutions the technology is very different. The dye sub process doesn't create the image from tiny dots, the images are made from varying intensities of continuous tone transferred via heating a colour sheet. Thus the pictures produced by dye sub printers tend to look smoother and a lot like photos from a photo lab. In addition at the end of the printing process the printer adds a clear protective coating to the print which makes them handling friendly and water resistant. Canon says the SELPHY CP900 photos are "capable of lasting up to 100 years while maintaining their superb image quality."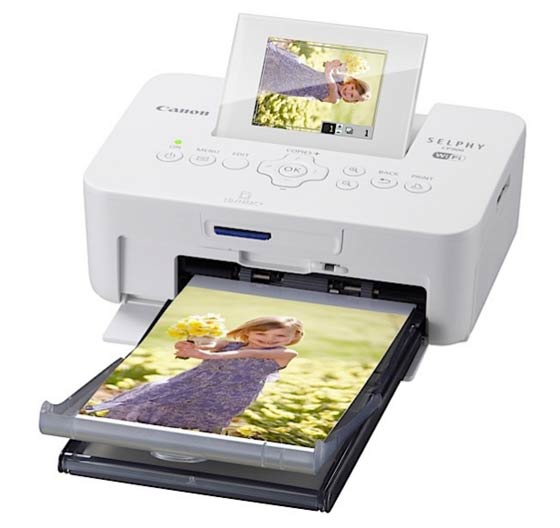 SELPHY CP900 specs
Wi-Fi connectivity IEEE 802.11 b/g/n
SD Memory card slot, Pictbridge, USB (& USB memory) connections
300 dpi print resolution using dye sublimation continuous tone process
As well as bordered or borderless 4 x 6 inch prints the SELPHY CP900 can create postcard (3.94 x 5.83 inch) and card (2.13 x 3.39 inch) prints
A 4 x 6 inch print takes approximately 47 seconds to be output
7.0" (W) x 5.0" (H) x 2.4" (D) in size and 1.8 lbs in weight. The CP900 is 16.5 percent smaller and 14 percent lighter than the Canon SELPHY CP800 Compact Photo printer
The CP900's 2.7-inch LCD is double the resolution of previous models making it easier to preview, select and adjust the best images for printing
In printer editing functions to eliminate red eye, enhance portraits and fix colour balance and lighting problems
An optional battery and charger make the CP900 truly mobile
Works with Windows XP or higher, Mac OS X v10.5.8 to 10.7
Price will be about $100 US retail, availability not yet announced for Europe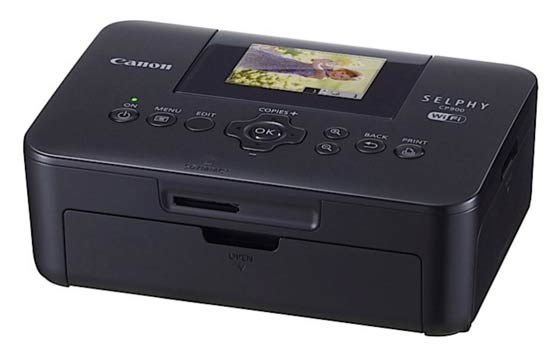 Media for the Canon SELPHY dye sub printer costs, for example, £21 for a 72 sheet 4"x6" print ribbon & paper pack at Amazon. That's 29p a picture for this good quality original media and "ink" kit. As usual, if you bulk buy bigger packs prices come down. If the portability and convenience of printing your own 4 x 6 inch prints and postcards from your camera, computer, smartphone or tablet appeals to you "providing instant photos from a grandparent's milestone birthday or of a child at a swim meet" you may indeed find the Canon SELPHY CP900 tempting.