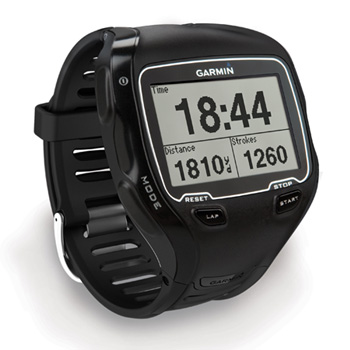 Garmin has expanded its range of multisport GPS watches with the launch of the top-of-the-line Forerunner 910XT.
The high-end watch, pictured right, claims to be "as good in the water as it is on land" and is Garmin's first multisport device to offer comprehensive swim data.
Water resistant at up to 50 metres, the 910XT tracks swim distance, stroke count and pace, and will also calculate a user's SWOLF score (lap time plus number of strokes) to gauge efficiency.
Ideal for enthusiast swimmers, but there's plenty of on-land functionality, too, where the 910XT uses GPS to record time, distance, speed or pace. There's also a built-in barometric altimeter for precise elevation data, and as with most other Forerunner watches, the 910XT syncs to Garmin Connect where users can store and examine detailed workout statistics.
The 20-hour battery life should keep you going throughout your multisport activities, but the price might be more prohibitive. The Forerunner 910XT will hit stores in mid-November priced at £359, or £389 with a bundled heart-rate monitor.