Caught by eagle-eyed HEXUS reader
HEXUS.community discussion forum reader, Gordy, recently dropped by his local John Lewis store to take a look at the new Apple stand - and we're as surprised as he was with what he found.
Let Gordy himself take up the story, "So I was in my local John Lewis store a week or so back, checking out its new little Apple Mac area. This had lots of Macs on display, with some desks set up and other accessories".
"There were also some wall-mounted iMacs. Imagine my surprise when getting closer to one of them I saw playing Pirates of the Caribbean Dead Man's Chest, which had been ripped by Axxo."
As any law-abiding member of the the HEXUS.community would do, Gordy took pictures to capture John Lewis in the act.
Here's the Apple display in question: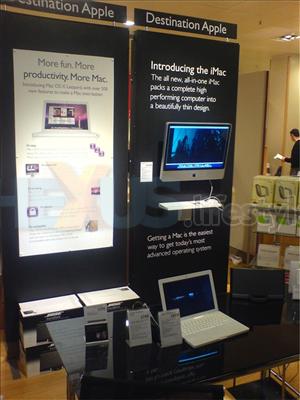 Come a little closer and you'll see that the "beautifully thin design" is demonstrating its visual ability in the form of the afore-mentioned Pirates of the Caribbean movie.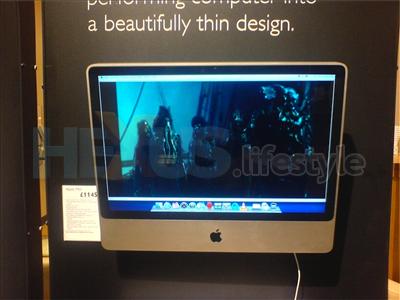 Step closer still, however, and you'll soon realise that this isn't in fact the retail DVD. No sir, this is a DVD rip by aXXo. For those who aren't familiar with movie downloading, what we're talking about here appears to be an illegal copy of the movie.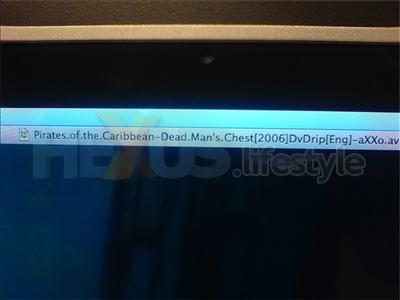 "I wonder if people in John Lewis's head office knows about this?", said Gordy. Our guess would be that they don't. Whatever the case, somebody at the store seems to have been very naughty indeed.
Piracy is a no-no and we've contacted John Lewis in search of an official explanation. We'll also be asking Apple whether or not it supplied the video that John Lewis was showing and, if it did, whether it did so with the film studio's blessing.


HEXUS Right2Reply
HEXUS' World Leading HEXUS Right2Reply initiative invites manufacturers, their representatives and vendors which supply HEXUS with products for technical editorial evaluation, to comment on the articles that we publish. If they choose to respond, we publish their response verbatim.
Official response from Louise Thomson, Corporate Press & PR Manager at John Lewis, dated January 23rd 2008 and published as part of HEXUS' right2reply policy:
"Thank you for bringing this matter to our attention. We have fully investigated the incident and the shop has removed and destroyed the clip. We have also taken the necessary steps to ensure that the replication and publication of pirate material in any form does not take place in our shops. This incident is not reflective of our policy and we take very seriously the copyright laws and would not intentionally break any of these rules or regulations."