Goodbye Curve, hello Bold
RIM has officially revealed its BlackBerry Bold, also known as the BlackBerry 9000, and it's one sexy-looking handset.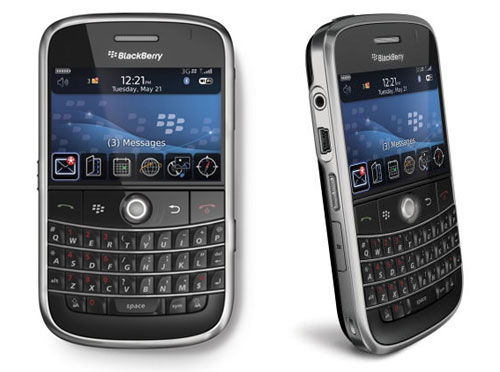 Looks aren't all that the device has going for itself, either. The latest BlackBerry handset offers an impressive specification with the following highlights:
Half-VGA (480x320 resolution) colour LCD
624MHz mobile processor
Support for tri-band HSDPA and Wi-Fi (802.11 a/b/g) networks
128MiB flash memory plus 1GiB encrypted on-board memory
MicroSD/SDHC memory card slot
Integrated assisted GPS
The device is said to feature powerful stereo speakers and offers useful features such as 480x320 video recording and photo geotagging. It'll be running BlackBerry OS 4.6, measures 4.5 x 2.6 x 0.55in and weighs 4.7 ounces.
In other words, this is one hot handset. All we need now is a confirmed price and release date, RIM has so far stated that the Bold will be available from "wireless carriers around the world beginning this summer".
With BlackBerry's Bold, Sony's XPERIA X1, HTC's Touch Diamond and a forthcoming 3G iPhone from Apple, there's certainly no shortage of high-end smartphone handsets on the horizon this year. Question is, which will you be choosing?
Official press release: RIM Introduces the BlackBerry Bold Smartphone
Official product page: BlackBerryBold.com