Today at 10am EST (3pm in the UK) RIM's BlackBerry 10 launch event kicked off. We have previously seen quite a lot about what was revealed this afternoon; various user interface and operating system niceties, not to mention the twin flagships of the full touch screen Z10 and more traditional keyboard equipped Q10. However there were one or two surprises; most notably the company announced it would be renaming itself from RIM to BlackBerry and a nifty gesture-typing keyboard OS feature which lets users flick suggested words into messages.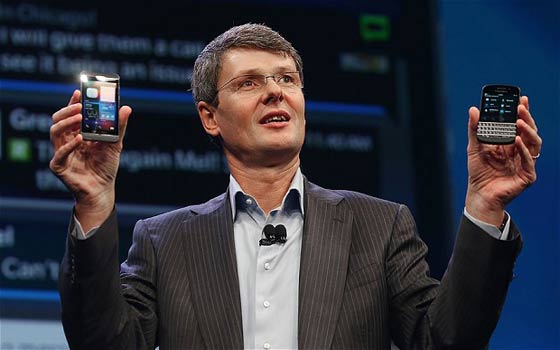 Speaking at the launch event in New York CEO Thorsten Heins said "Today represents a new day in the history of BlackBerry. Two years ago, we had to make a very serious decision: adopt somebody else's platform or build a whole new one. And we made the tough call to go it alone." He was referring to the buy-out, adoption and mobile development of the QNX real-time operating system which the company acquired in 2010.
Many have said this is a make or break moment for the BlackBerry maker, if things don't turn around pretty promptly following the new BB10 OS and device launches then there may not be enough bullets left in the gun to survive any further siege by Apple, Samsung, Microsoft et al.
The new interface with its seamless flow between the various core smartphone tasks seems perfectly functional and looks appealing. It seems intuitive and more immediate to use the gestures to easily check out your hub and then flow to another task, or if your peek doesn't reveal any interesting notifications, simply stay where you are. The best way to "experience" the new OS, until tomorrow in a retailer, is by looking at one of the videos of it in action, I've embedded one showing off the gesture-typing keyboard below.
Other key features about the new BB10 system are the video chat and screen sharing functions now within BBM, BlackBerry Balance – which lets you separate your personal and professional life, gesture based typing, time-shift "best-shot" photo features and that there are 70,000 apps available at launch including Skype, Amazon Kindle, WhatsApp and, yes, Angry Birds.
BlackBerry Z10 available to buy in the UK on Thursday 31st January
Yes, the full-touch-screen BlackBerry Z10 will be released to retail in the UK tomorrow. Canadians can get their chilly mitts on it from Tuesday 5th Feb and US residents will have to wait until March. As for the Q10, it should become available starting from February.
BlackBerry Z10 specs
Screen: 4.2-inch 1280x768pixels, 355ppi
Processor: Dual-core 1.5GHz
Memory: 2GB RAM; 16GB Flash (plus hot-swappable MicroSD)
Cameras/AV: 8MP/1080p; 2MP/720p + HDMI Port
Interface: No physical home button
Talk time: up to 11hours
Dimensions: 130 x 65.6 x 9mm
*There's an extensive BlackBerry Z10 review already available on CrackBerry here.
Early analyst views of the launch are mostly positive, Sky News quotes Michael Gartenberg, an analyst at technology research firm Gartner, who said, following the event, "RIM has clearly reinvented itself with a new set of devices and a platform. It's definitely met the table stakes for many users." He added, "The challenge will be to keep the momentum going for developers and apps and leveraging the Blackberry brand. Blackberry delivered the first step but this is a marathon not a sprint."
The challenge is a big one. RIM sold 12 million smartphones in Q4 2013 whereas Apple shifted nearly 48 million iPhones and Samsung sold 63 million Android powered phones.