Canon has announced the development of a new APS-H sized CMOS imaging sensor that incorporates approximately 250 million pixels. It claims this is a world record for a sensor under the 35mm full-frame size. Maximum native resolution captured images have the dimensions of 19,580 x 12,600 pixels.
While sometimes an increase in pixel count can result in signal delays, the new Canon sensor doesn't suffer from such problems with its ultra-high signal readout speed of 1.25 billion pixels per second. The Japanese imaging tech firm explains that it has boosted the readout speed using "circuit miniaturization and enhanced signal-processing technology". Thus it is capable to recording these huge 250-megapixel images at up to five frames per second. Canon insists that, despite the massive pixel count, its architecture delivers high sensitivity and low-noise.
The sensor is a pretty good video performer too. Presumably decreasing the frame size, to achieve something smoother than the 5fps achievable at the full 250-megapixel capture, Canon claims that the sensor is capable of video of 125x FHD resolution or 30x 4K resolution. Thanks to the lashings of extra pixels, data video editors, mixing down to something like 4K, could crop and magnify video scenes without loss of detail and clarity.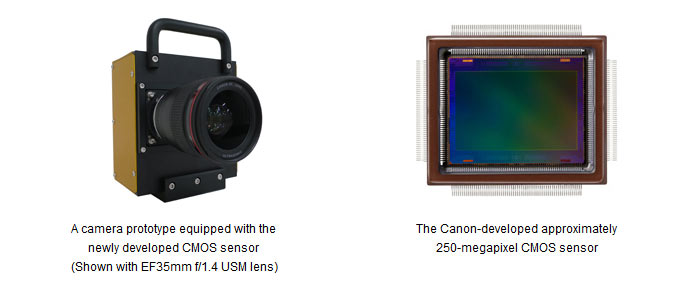 Extraordinarily Canon says that the sensor was tested in a camera that could "capture images enabling the distinguishing of lettering on the side of an airplane flying at a distance of approximately 18km from the shooting location". However the optical zoom of the camera lens employed helped it out, according to a little asterisk.
Canon expects the new sensor to be used in surveillance and crime prevention tools, ultra-high-resolution measuring instruments and other industrial equipment. So it sounds like this particular sensor won't be on its way to a compact camera or smartphone.