HEXUS member Mark Littlejohn (Kushtibari) has won the prestigious Landscape Photographer of the Year 2014 competition. The winning image was a photograph taken at Glencoe, Scotland on "a very wet miserable day". The shot is entitled 'A Beginning and an End', see below.
Littlejohn's photograph captures a vista including a small stream that temporarily came to life due to heavy rains in the Glencoe mountains. The stream was situated on Gearr Aonach and became visible during a gap in the gloomy oppressive weather on the day. Penrith-based Littlejohn says "The truth is I just liked this wee stream, both for its temporary nature - it was gone 20 minutes later - and also for the way you could see the start and finish points." Thus he decided upon the title of the photograph; 'A Beginning and an End'.
Speaking about his win to Amateur Photographer, Littlejohn described the moment he found out about his competition win as both "pure joy," and a "surreal experience". To win this competition a photograph is put against thousands of other stunning landscape shots. Competition founder Charlie Waite described some of the reasons behind the choice of the winning photograph "Mark discovered and isolated a fleeting moment of beauty within a vast and slightly threatening arena." Waite added "The composition compels us to visually explore the image, and its delicacy and understatement are enormously satisfying."
In addition to the satisfaction of winning such a contest, and being UK Landscape Photographer of the Year 2014, HEXUS member Littlejohn will collect a £10,000 top prize.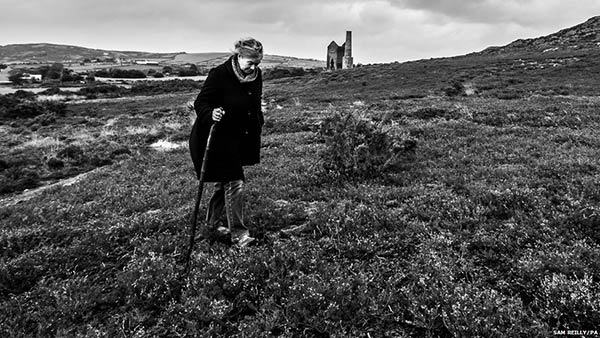 Sam Riley's winning Anglesey photo
Seventeen year old Sam Riley won Young Photographer of the Year with a black and white photograph of his mother walking amid the landscape of Anglesey island, Wales (above).
Thanks to HEXUS member g8ina for bringing this photography competition news to our attention in a HEXUS forum post.