LG has launched a new range TV sets incorporating technology that "effectively drives away mosquitoes". The IPS screen equipped TV sets use a technology called 'Mosquito Away' which uses ultrasonic sound waves to repel these blood sucking pests.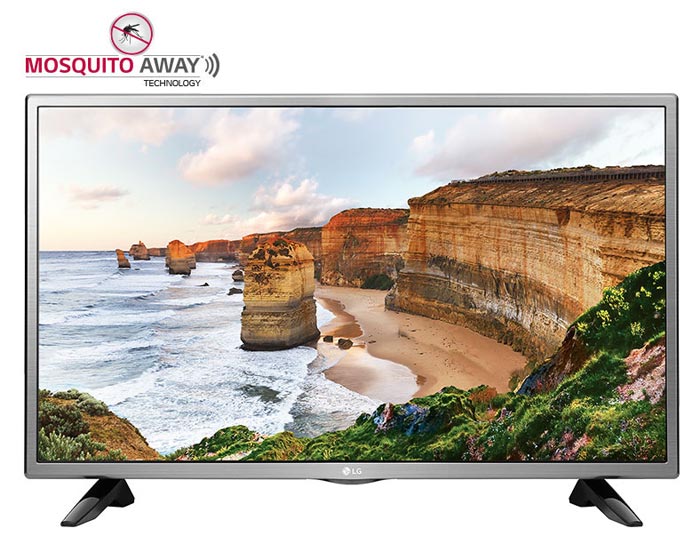 I lived in Taiwan for a number of years and would have appreciated a 'Mosquito Away' TV and/or monitor while residing there, in the humid tropical mosquito-friendly environment. Mosquitoes don't just suck your blood, buzz around your ears at night, and cause itchy lumps - they are well know disease carriers. In Taiwan, and in India where these new sets are being marketed, Mosquitoes can pass on Dengue fever, a dangerous and painful disease also known as 'break bone fever'.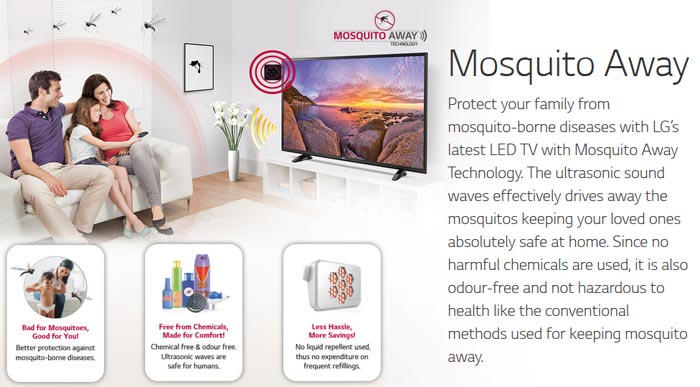 Using the LG 'Mosquito Away' TV may well mean you can cut out other repellent use. You might be able to live in comfort, untroubled by mosquitoes, without the potentially harmful chemical evaporator and incense style repellents in your home. The TV will also save you on buying sticks, liquids and refills to use/burn to keep your home mosquito free.
Bollywood Mode
In other specs the LG Mosquito Away TVs are much more standard slim and stylish TVs. They feature IPS screen panels with wide viewing angles, the LG Triple XD Engine helps provide vibrant colour and contrast, Smart TV functionality is available with regional language options, and video games are built in, advanced power saving functionality is implemented, as is USB movie functionality with DivX (HD) certification. Complementing the visuals LG has equipped 20W stereo sound with Dolby Digital.

Helping end users make the most of the entertainment available on their new LG Mosquito Away TVs, there are a number of audio -visual presets on offer that we aren't used to seeing in the west. It was interesting to read that the new made in India LG range offers Bollywood Mode with a special focus on the sound – helping you enjoy the dynamic rhythm-heavy music. For sports fans this LG TV features Cricket Mode for "the ultimate cricket viewing experience," with tweaks to both visual and audio settings for enhanced cricket viewing.
LG Mosquito Away TVs range from 32-inch to 45-inch in diagonal, and are priced from approx £270 (26,900 Rupees) to £480 (47,500 Rupees).