Amazon has launched its Fire TV Stick in the UK. This product offers many of the features of the Amazon Fire TV set top box in the increasingly familiar HDMI-stick form factor and at less than half the price of its big brother.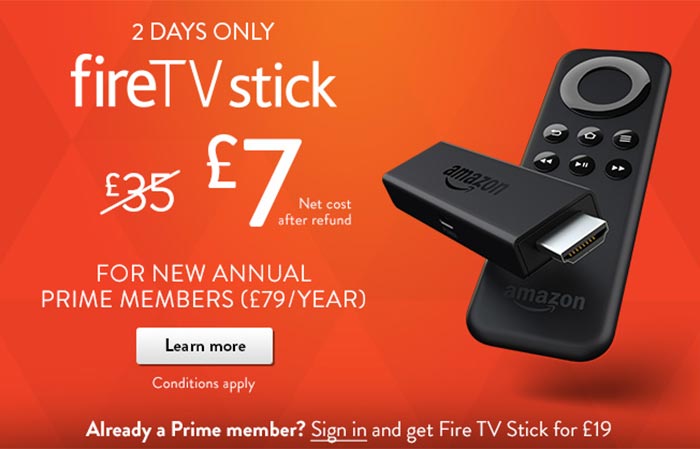 Jeff Bezos, Amazon Founder and CEO, said of the new product, "We're excited to introduce Fire TV Stick in the UK. Fire TV Stick is the most powerful streaming media stick available, with a dual-core processor, 1GB of RAM, 8GB of storage, dual-band and dual-antenna Wi-Fi, included remote control, voice search with our free mobile app, and an open ecosystem. The team has packed a huge amount of power and selection into an incredible price point—Fire TV Stick is just £35."
To go with the cut down price the spec of the Amazon Fire TV Stick is, as you would expect, rather less impressive than that offered by the Amazon Fire TV. On the official Amazon product page it is compared against the Google Chromecast as shown below.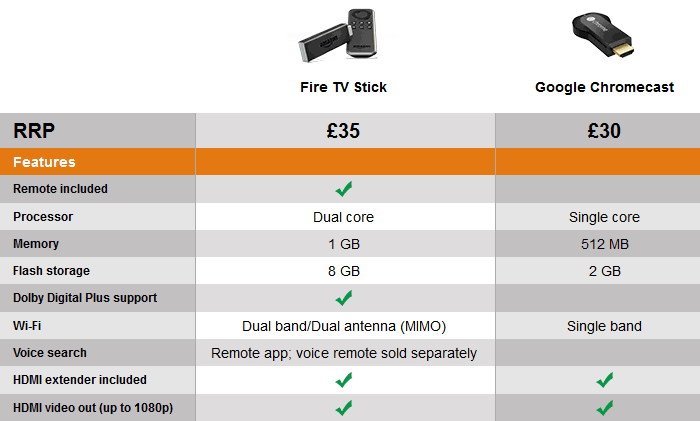 In Amazon's reckoning its HDMI device offers 4x the storage and 2x the memory of the Chromecast plus a better processor and faster Wi-Fi. It also offers 6x the processing power of the Roku streaming Stick, thanks to its Broadcom Capri 28155 dual-core 2xARM A9 CPU enhanced by a dedicated VideoCore4 GPU.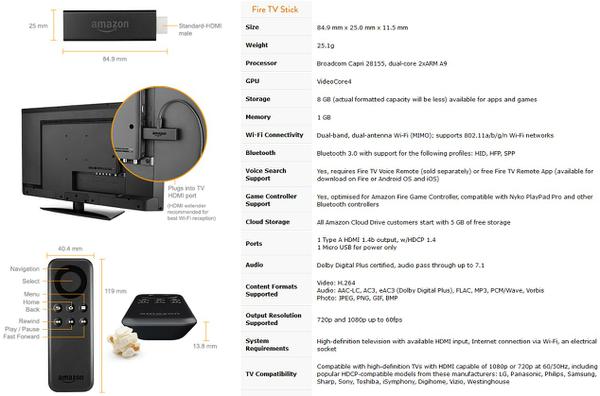 click to zoom
Amazon Fire TV Stick users can enjoy streaming of popular services such as Prime Instant Video, Netflix, BBC iPlayer, BBC News, BBC Sport, Sky News, Curzon Home Cinema, STV Player and more. Amazon promises fast and fluid operation with video played back at up to 1080p HD at 60fps and immersive audio with Dolby Digital Plus surround sound. Its dual-band, dual-antenna Wi-Fi with MIMO is said to get the most out of your home broadband. The device can also mirror another Fire device screen or Miracast compatible device.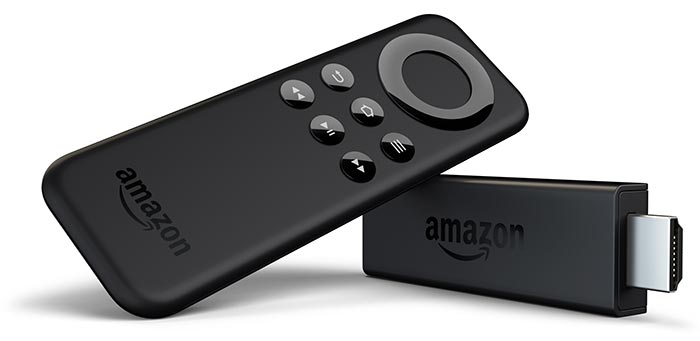 While a remote is included you can use a smartphone app for remote control duties or upgrade to a voice control remote for an additional £24.99. Gaming on the Fire TV Stick can be enhanced by the use of Amazon's Fire Game Controller, sold separately.
The Fire TV Stick is on pre-order now for £35. Amazon is offering a special promotion "for 2 days only," where current Prime members can purchase this device for £19. Alternatively, if you sign up as a new Prime member (£79 p.a.) it will cost you just £7 after a refund.
In recent related developments Google will be making its Nexus Player set top box available in the UK, starting this Thursday.