The Google Nexus Player is now available for pre-order in the UK. The Android Lollipop set top box is due to be released in the UK this Thursday, 26th March. Amazon UK is listing the device at £79.99 including delivery. That's on a par with the Amazon Fire TV.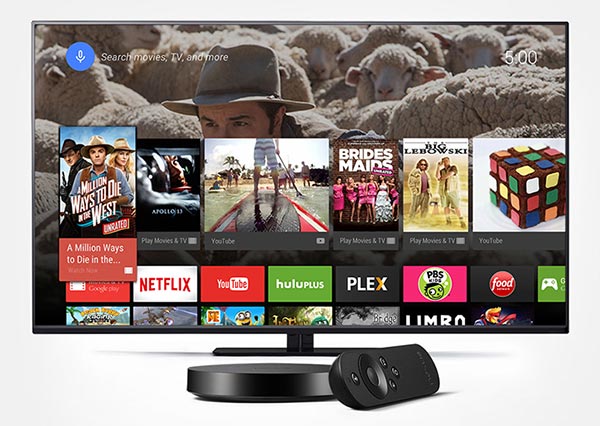 Google's Nexus Player has been exclusively available in the USA from shortly after its launch late last year, at $99. It is the first device to be built for Android TV. However Nvidia claim to have built the first Android TV 'Console' – the SHIELD console device, powered by a Tegra X1 chip, it launched at the beginning of this month at $199 including one controller.
So what can you do with the Google Nexus Player? The device can do anything a Chromecast can plus offer a plethora of games and apps from the Play Store. As a device for your living room it is aimed at providing entertainment for your big screen.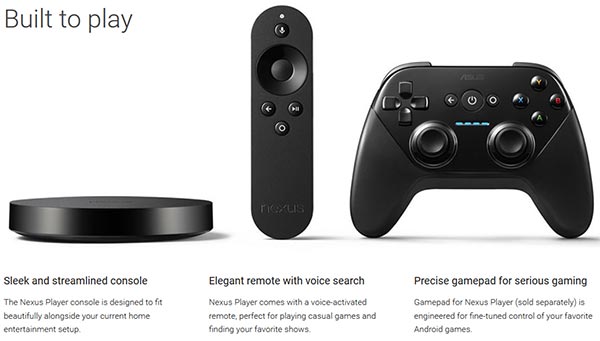 It comes with a remote to help you enjoy the content it brings to your TV from the comfort of your sofa, without needing another device for control. The included remote features button controls plus a microphone so you can just press a button and speak to search for entertainment. If you do have other Android gadgets you can enjoy synchronised content between devices. This means you can start watching a movie on your TV, for example, and finish watching it on your tablet on the train.
The key specs of the Google Nexus Player are as follows:
Processing: 1.8GHz Quad Core, Intel Atom, Imagination PowerVR Series 6 Graphics 2D/3D Engine
Memory: 1GB RAM, 8GB storage
Ports: 18W DC power, HDMI out (1920x1080@60Hz) (no cable included), Micro-USB 2.0
Wireless: 802.11ac 2x2 (MIMO), Bluetooth 4.1
Weight: 235g
Dimensions: 120mm x 120mm x 20mm
Bluetooth Remote: 40g (+ the weight of 2xAAA batteries included), 37mm x 140mm x 16mm
OS: Android TV lollipop (v 5.1 has just been released)
Built by ASUS
While Nvidia might claim to offer the first Android TV console, the Google Nexus Player should be able to cope capably with the usual Android games titles and you can buy a dedicated 'Gamepad for Nexus Player' if you wish.