The upcoming season three of House of Cards has been produced on a 6K workflow, according to the Hollywood Reporter. Season two was one of the first shows to be released in 4K, from a 5K master, and exec producer David Fincher seems to want to push the quality even higher. In a somewhat contrasting development, a trio of Netflix engineers have demonstrated a Netflix app running on an original Nintendo Entertainment System (NES).
Netflix 6K production
The third season of House of Cards was filmed on cameras equipped with the Red 6K Dragon sensor. The 6K R3D files and 6K DPX special effects files were put together to create 6K archive masters of the show which weigh in at about 5.5TB per episode. The production firm then delivered 4K versions to Netflix at about 2.5TB per episode.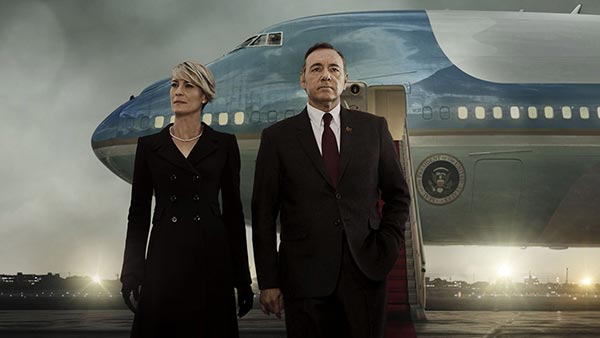 So while the recording of season 3 was 6K rather than 5K with season 2, the best quality Netflix streamed files are the same 4K ones. If any of you out there with a 4K TV, plenty of bandwidth and Netflix sees an improvement in House of Cards picture quality please let us know.
Netflix running on an NES
For the next Netflix news snippet we are going from sublime video quality to the ridiculous. While Netflix is capable of pumping true-colour 4K content down your broadband tubes to your massive smart TV it is also possible to enjoy its video streaming services on more modest devices/screens.
Polygon reports that a 'working' Netflix app has been squeezed onto the most modest, and most ancient, set-top-box or console yet. Netflix engineers Guy Cirino, Alex Wolfe and Carenina Motion. The limited version of the app on a NES browsed Netflix content rather smoothly but the House of Cards intro video shown playing was hobbled by the limited colour capability of the ancient console.
The engineers described the NES in use as 'unmodified' so rather than any network connected streaming it seems to have been playback limited by the capacity of the '256K' cartridge format the NES accepts. Whether it's possible to create some kind of Ethernet cartridge interface may be moot as Netflix probably wouldn't stream NES-format movies to such a limited audience of a trio of its own engineers. The NES hardware is certainly not capable of doing its own real-time downsampling of any higher quality streams.
The NES, launched in 1983, can display 16 simultaneous colours from an available palette of 52, at a native resolution of 256 x 240 pixels. Its Ricoh made MOS Technology 6502 8-bit central processor ran at just under 1.8MHz and was paired by an 8-bit PPU (picture processing unit) for graphics duties.