Evesham Technology gave a series of press briefings this afternoon where a bunch of cynics (including HEXUS) gathered to try to pick holes in the company's latest consumer electronics' offering the iplayer - see today's earlier HEXUS.lifestyle.headline, Evesham iplayer - the Freeview PVR you've dreamt about!

Trouble is, Evesham and the iplayer's French maker Netgem seemed to have answers to all the questions and these underlined just how special the product is.





"The hard disk's too small", we chant, "80gigs is nuffink! Why put in something so small and not a decent-size HDD?"

"Well", says Evesham, "the HDD had to be a 2.5in laptop drive to fit the iplayer's small form factor - 315(w) x 155(d) x 50(h)mm - and a bigger-capacity drive would have banged up the cost significantly. And, anyway, there's no need for a bigger drive".

"Rubbish!", shouts the chorus.

"Not so", says Evesham, "because you can save off your recorded TV programmes over the network to your PC - and play them back from there - and, in two weeks' time, when we make available a firmware update, you'll be able to save them off directly to an attached USB hard disk that can be as big as you like - as long as it's formatted as FAT32".

"Oooh!", goes the chorus (with some mandatory but half-hearted "boos" because FAT32 restrict file sizes to a 4GB maximum).

"You can even attach a USB stick drive and play back from that", says Evesham.

"Oooh!", goes the chorus (by now more than a little confused).

"And", says Evesham, "just take a look at the quality of the upscaling of Freeview TV to high-def".

"Oooh!", goes the chorus (wondering if they're on a hiding to nothing, but deciding to put their trump card on the table right away), "but what about the price, eh? Three hundred squids is a lot of lolly, you could get a Sky HD PVR for that!".

"But", says Evesham, "with a Sky box you'll be paying out a lot of money on top every month for a subscription. Do the maths yourselves. Also, tot up the cost of buying a basic 80GB Freeview PVR and a network media player and a box that gives you internet connectivity and all the other good stuff the iplayer offers - then Evesham's price starts to look very reasonable".

"Also", says Evesham, "realise that, unlike all this other kit, the Evesham iplayer is not only able to upscale but is HD-capable now - it can handle different types of HD video from a PC, including H.264. Take a look this - it's

Elephants Dream

, the world's first open movie and it's in HD.

"Oooh!", goes the chorus (more impressed than they care to admit).

"And", says Evesham "with an easy firmware upgrade, you'll will be able to watch off-air HD if and when the current Freeview HD trial turns into a full service (which we think it will). Check out this set - it's showing the Freeview HD trial and lets you see how good it is".

"Oooh!", goes the chorus (unanimously deciding to go home and give the cat a damned good kicking).

"Before you go", says Evesham, "did you see how fast the Freeview text comes up? Look at this, and this, it's all due to our using the very latest and fastest Sigma Designs chipset".

"Oooh!", goes the chorus (who've never seen Freeview text come up at anything like this speed and are thoroughly deflated but looking forward hugely to getting an iplayer to play with so they can find something to complain about).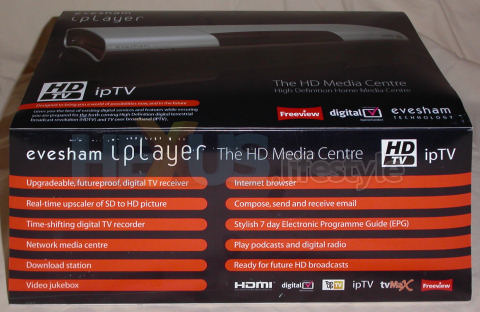 As promised this morning, we'll be bringing you an early in-depth review of the Evesham iplayer - warts-and-all (if we find any) - so make sure to tell us in this thread in the HEXUS.lifestyle.news forum about the things you'd like us to check out when we get the product up and running.


HEXUS.links
HEXUS.community :: discussion thread about this article
HEXUS.lifestyle.headline :: Evesham iplayer - the Freeview PVR you've dreamt about!

HEXUS.lifestyle.headline :: Evesham £150 sat-nav plays MP3s and stills; tracks speed cams
HEXUS.lifestyle.review :: Evesham Freeview personal video recorder PVR160
External.links
LOW - Evesham iplayer buying page
Netgem - home page
Sigma Designs - home page
Orange Open Movie Project -

Elephants Dream

home page