Just a day after the launch of the Chromecast HDMI dongle Google has sold out on Google Play, Amazon and Best Buy, reports Variety. It seems like the demand for the inexpensive HDMI TV streaming device was "grossly underestimated" by Mountain View. Contributing to the sell-out may not have just been the popularity of the device itself but the value represented by the introductory offer of a 3-month free subscription to the Netflix streaming video service, which was on offer to buyers of the Chromecast. In other news, gadget buy-back and trade in sites have reported a flood of Nexus 7 users wanting up upgrade.
This isn't the first time that Google has launched a spectacularly popular product and underestimated demand for it. In recent memory we saw the supplies of the Nexus 4 smartphone get gobbled up instantly (OK, I exaggerated, it took 30 minutes in the UK) and then there was a long delay as manufacturing geared up to meet the demand. Google blamed LG for that and LG blamed Google for the underestimation of demand - by a factor of ten.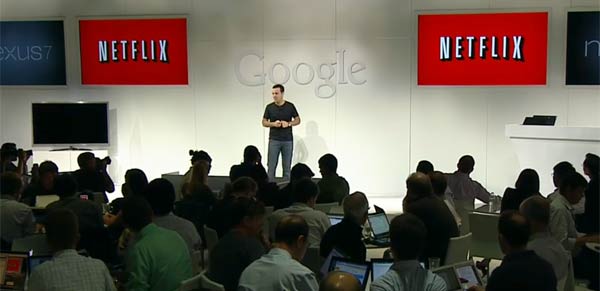 Overwhelming demand
Google has written to the LA Times to make a statement about the Chromecast and Netflix offer: "Due to overwhelming demand for Chromecast devices since launch, the 3-month Netflix promotion (which was available in limited quantities) is no longer available." The LA Times informs us that Google has issued a 'clarification' to the paper explaining "users who purchased Chromecast before the promotion ran out will still be able to redeem their Netflix promotion code for three free months of the video streaming service." Confusingly the Netflix promotion cut-off time depends upon which retailer you bought it from. LA Times readers wrote in to say that Google Play customers must have placed orders before 1pm PST on July 25, 2013 - Amazon customers must have placed their orders before 5:31 PM PST on July 24, 2013.
Google won't disclose how many Chromecast dongles it had initially available for the post-launch sales. The online-only Google Play store indicates a wait time of up to a month, at the time of writing, but there may be some hope; Best Buy has in-store stock availability scheduled for 28th July, according to Variety. Meanwhile if you must get your hands on a Chromecast there are several resellers offering the devices on Amazon.com for around $69 and more (plus shipping).
Nexus 7 owners rush to trade-in
An article on TechCrunch informs us that a lot of first generation Nexus 7 owners are rushing out to trade-in or otherwise dispose/flog their devices following the launch of the 2013 model. A spike of 442 per cent in people wanting to trade-in Nexus 7 tablets occurred the day before launch at US based buy-back site Gazelle. I've just had a click around and if I had a mint condition "flawless" Wi-Fi 8GB version of the Nexus 7 I would be offered just $53.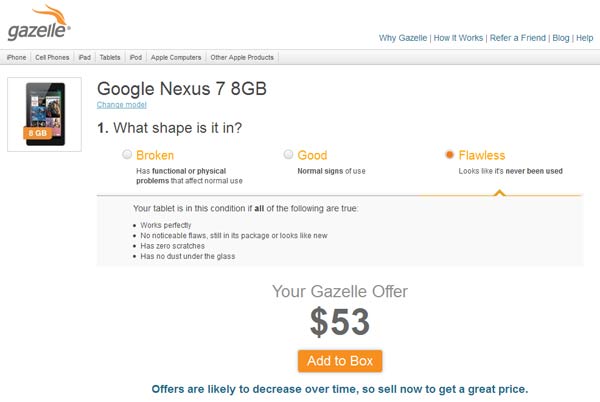 According to the TechCrunch interpretation, of the rush to trade-in old Nexus 7 tablets, the existing user base "are probably happy with their devices and eager to grab new ones, by trading in their last-gen devices to fund their purchases". However the new Nexus 7 doesn't look like it has won many converts from Apple's iOS tablets as iPad trade-ins showed "no appreciable increase" to coincide with the 2013 Nexus 7 launch.