A shameless burglar has logged on to the Facebook account of a victim to gloat about stolen goods - including a notebook, an iPhone and a Nintendo DS games console.
42-year-old Victoria Richardson was burgled last week at her family home in Hove, East Sussex. The next day, she logged on to her Facebook account, only to find that her assailant had been using her Toshiba notebook to post belittling messages on her profile.
Showing no sign of remorse, the burglar posted messages stating "on my new laptop" and "listening to music on my new phone feels so good".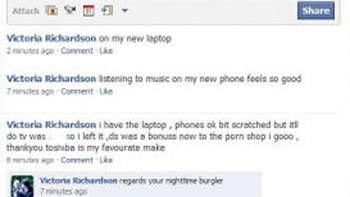 Further rubbing salt into the victim's wounds, the burglar adds that Richardson's TV wasn't worth stealing, and that many stolen items may end up at a pawn shop. The insulting messages were concluded with "regards your nighttime burglar".
Speaking after the incident, Richardson said she felt "spooked", adding that the incident had been "really degrading". Sussex Police have confirmed that a thorough investigation is under way.