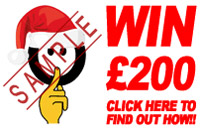 Quiet PC, the UK-based retailer of components that endeavour to silence your system, has kicked off its annual "Where's Q" competition.
In order to take part and be in with a chance of winning a £200 credit to be used at the Quiet PC store, all you need to do is find a selection of Q's hidden throughout the Quiet PC website. Here's how it all works:
"For your chance to win, all you need to do is find Q. No, we don't mean James Bond's gadget man, we mean Q - the little fellow on our logo who says, "shhh"!

We have hidden Q on ten product images throughout our website. All you need to do is tell us the location of at least seven of them. To make him more seasonal and easier to spot, we have put a Christmas hat on him.
Once you have found Q on at least seven web pages, just email the page links to competition@quietpc.com . Simple as that!"
Sounds like a bit of fun, and there's a very tidy prize awaiting one lucky winner. If you fancy your chances, head on over to the official competition page to get started, and remember, the sample Q on this page doesn't count toward your seven!
Useful links
Competition details and rules/conditions