We heard about the world's first rollable OLED TV, from LG, about a year ago. It was subsequently teased at trade shows like the CES 2019 and more recently at IFA 2019 in September. Unfortunately the LG Signature OLED TV R9 4K HDR Smart TV is still marked as 'coming soon' on the official product page, so this attractive 65-inch TV it isn't actually available to purchase yet.
In the meantime, we have a surprise further entry into the rollable TV fray. Sharp, in collaboration with the Japan Broadcasting Corporation (NHK), has announced its own 4K flexible OLED TV. The way this TV opens - unrolls - is remarkably similar to the LG, and it looks like its rival either fully extended or withdrawn.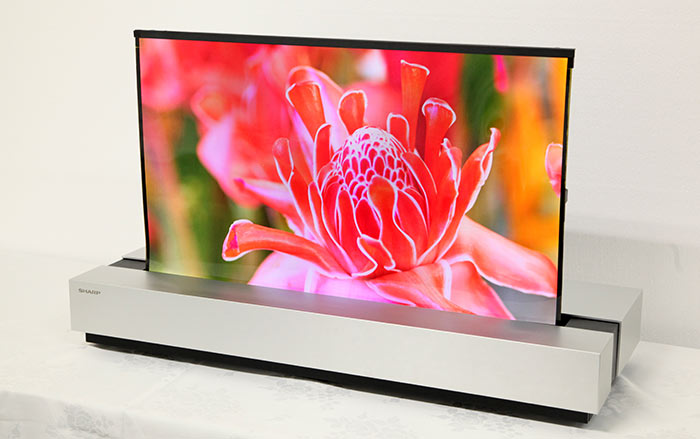 A big difference between the LG and Sharp efforts though is the size. The LG offers a 65-inch diagonal but the Sharp TV is just 30-inches, bucking the bigger is better trend. Nevertheless one of Sharp's claims about its new rollable TV is that it is "The world's largest roll-up of colour filter-less organic EL display using a 30-inch diagonal film substrate to realize a 'rollable' product that can be stored neatly." This specific claim sidesteps any reference to the LG, which I assume uses slightly different OLED tech.
If you are still questioning the size of this display, perhaps the desire for a rollable compact TV will be greater at this end of the market - for people living in space constrained flats and apartments.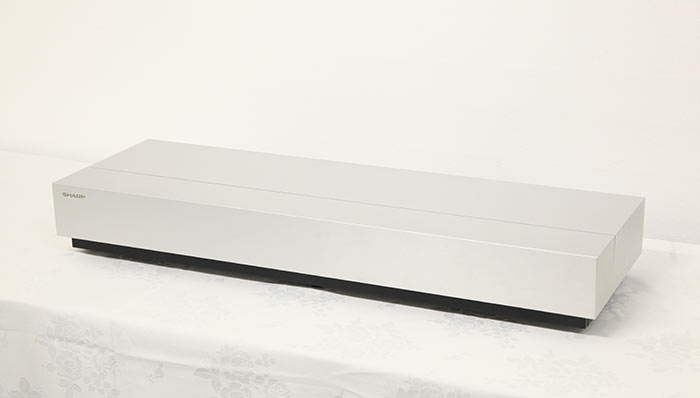 Further info about the Sharp screen tech is revealed in a blog post about the NHK co-developed product. It soundly like NHK played an important part in the development by offering up its "original signal processing and panel drive technology are used to improve screen brightness uniformity and video clarity." Add into this Sharp's thin film transistor high light transmission, lower power usage IZGO technology. Interestingly, the rollable screen is just 0.5mm can be rolled up inside the base to make a 4cm diameter tube.
Tech specs of the new Sharp rollable TV are as follows:
Screen size: Diagonal 30-inches (approximately 76cm)
Aspect ratio: 16:9
Number of pixels: 3840 pixels wide x 2160 pixels high (4K)
Frame rate: 60 frames / second
Organic EL device structure / formation method: Top emission type / RGB painting
Driving transistor: IGZO-TFT
Sharp is currently demonstrating its rollable TV at the Inter BEE 2019 exhibition at the Makuhari Messe (Mihama-ku, Chiba). It will be on show there until Friday.