Back in January HEXUS reported upon a new partnership between Philips and Razer. The Philips Hue API and the Razer Chroma ecosystem became entwined for "a new level of spatial immersion," as you gamed on your Razer Chroma equipped PC. Razer's system syncs Hue lighting with its Razer Synapse 3 software and might be the best choice if you have RGB LED Razer hardware in your PC. However, users of the new generalist PC/Mac software don't sound like they will miss out much.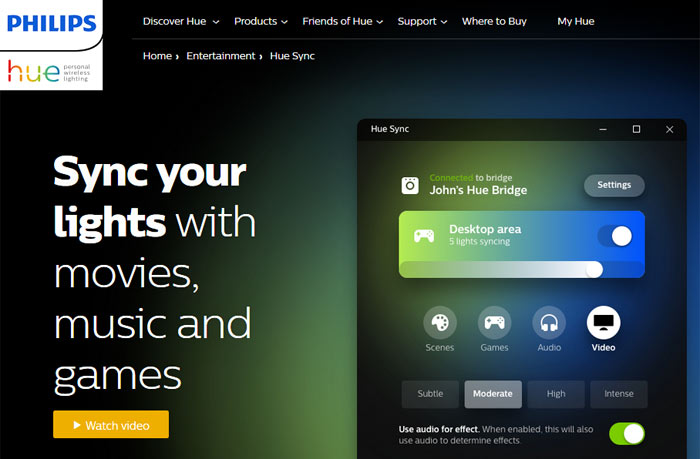 With the new Philips Hue Sync software you can now enjoy lighting synchronisation with movies, music, and games on any PC or Mac. Philips explains that the system "captures content you're watching, listening to or playing and translates it into an immediate lightscript for an immersive experience".
Example gaming video
In movies and games that seems to translate to ambilight style lighting, that is complimentary to the colours on screen at any time. In music mode Philips Hue Sync listens to the beat, dynamics and type of song to create lighting effects. There are further settings to adjust whatever content consumption is going on - changing intensities, colour palettes, and so on.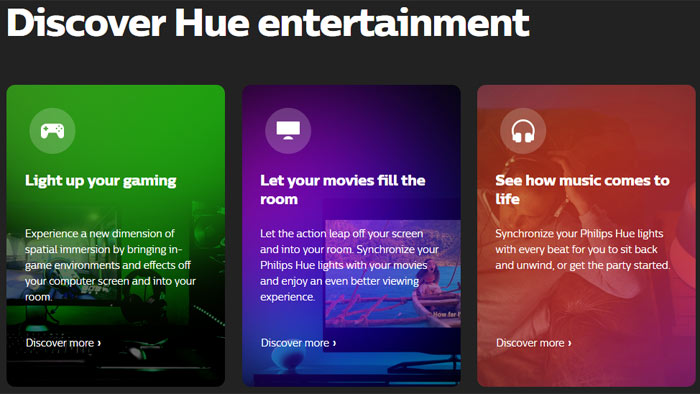 To get your Hue products to sync with your PC (Windows 10) or Mac (Mac OS Sierra or newer) you will need a few things. First of all you have to make sure the Hue Bridge and any Hue lighting products you wish to control are powered up and connected. Then you set up an entertainment area in the Philps Hue app. Lastly you run the Philips Hue Sync app on your PC or Mac.
If your PC or Mac isn't in the location you want to enjoy the synchronised Hue lighting experience - your living room for example - don't forget you could stream the desired content to your living room TV and enjoy the Hue Sync experience there.