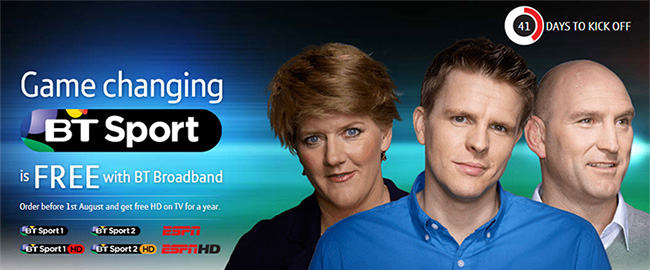 The 2013/14 Premier League season will kick off in less than two months, and this year's campaign will be fiercely contested in more ways than one.
We're predicting a close race between the champions Manchester United and the Special One's Chelsea, but what's equally as interesting is the battle that's brewing between BT and Sky. Having acquired the rights to 38 Premier League matches at a staggering cost of £738 million, BT has emerged as a surprise challenger to Sky's sports supremacy.
This is a broadcasting war that makes Fergie vs. Wenger look like a playground spat. In the red corner, Sky, who paid a cool £2.28 billion for 116 games, has dominated Premier League coverage since the league's inception in 1992 and has seen off challenges from Setanta and ESPN without breaking a sweat.
In the blue corner, BT, a competitor with deep pockets, is seen as the first genuine challenger to Sky and will soon launch two dedicated sports channels carrying exclusively; 38 live Premier League matches; 69 live Aviva Premiership Rugby matches; 25 FA Cup games; the Uefa Cup; live UFC events; every MotoGP race and more.
Both broadcasters can boast an impressive catalogue of sporting rights, but BT's headline announcement was that BT Sport will be freely available to customers with BT Broadband, which costs £10 per month excluding line rental.
"UK sports fans have had a rough deal for too long," said BT's chief executive, Ian Livingston. "Many have been priced out of the market, but we will change this by giving away BT Sport free with our broadband. Sports fans are the winners today."
The announcement saw TalkTalk shares plunge as analysts predicted a mass migration to BT Broadband, but let's hear it from you, the readers. Has free footy convinced you to switch to BT Broadband? Let us know using the comments below.