Netherlands-based Keomo is set to introduce a couple of novel Bluetooth GPS receivers - one solar-powered, the other half the size of a credit-card - and each will be available through Widget UK.

Widget is pitching the snappily-named Solar Nemerix 16 Bluetooth GPS at £74.99 (inc VAT) and reckons that its big advantage is massively extended operating and stand-by times.

Having dual power - battery and solar energy - is claimed to mean that it offers far longer operating time (100 hours) than conventional GPS receivers. Further, because it can be permanently left in stand-by mode during decent weather, its stand-by time is, effectively, unlimited.



Key features are listed as:





* Nemerix 16 channel GPS chipset - 16 parallel satellites acquisition
* Built-in rechargeable Lithium battery - 1100 mAh
* Support MNEA 0183V2.2 data protocol
* Auto power off (when Bluetooth stays disconnected longer than five minutes)
* Size: 88(w) x 61(d) x 25(h) mm
* Weight: 80g
* Working temperature: -20deg C to +75deg C (internal temperature)
* Storage temperature: -55degC to +90deg C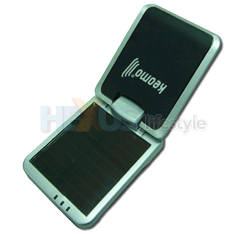 Solar Nemerix 16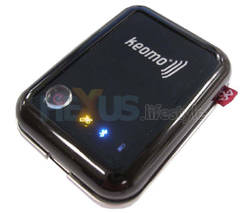 SiRF Star 3



The Keomo SiRF Star 3 Bluetooth GPS receiver (£69.99) measures only 59(w) x 44.6(d) x 21.7(h) mm and weighs just 50g, so is genuinely tiny and ultra-pocketable. Mind, you, there's no doubt that it's also considerably chunkier than your average credit-card even though it does have a smaller footprint.

Operating time is claimed to be 11 hours and standby an impressive 334 hours (almost a fortnight!), thanks to its use of a SiRF 3 chipset.



Key features are:





* SiRF Star 3 GPS chipset - 20 parallel satellites acquisition
* Built-in rechargeable Lithium battery - 700 mAh
* Support MNEA 0183V2.2 data protocol
* Auto power-off (when Bluetooth stays disconnected longer than five minutes)
* Size: 59(w) x 44(d) x 21(h) (mm)
* Weight: 50g
* Working temperature: -20deg C to +75deg C (internal temperature)
* Storage temperature: -55deg C to +90deg C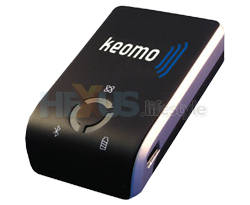 Nemerix 16



Widget UK is also stocking a third Keomo Bluetooth GPS receiver, the Nemerix 16. Although not quite so new, this established model is pretty tiny - 69(W) x 47(D) x 19(H) (mm) - weighs just 50g and will go out for a keen £49.98.



Key features are:





* Nemerix 16 channel GPS chipset - 16 parallel satellites acquisition
* Built-in rechargeable Lithium battery - 1050 mAh
* Support MNEA 0183V2.2 data protocol
* Auto power on/off function (when Bluetooth stays disconnected longer than five minutes)
* Size: 69(w) x 47(d) x 19(h) mm
* Weight: 50g
* Working temperature: -20deg C to +75deg C (internal temperature)
* Storage temperature: -55deg C to +90deg C



Thoughts? Share them with us in this thread in the HEXUS.lifestyle news forum.

HEXUS.links
HEXUS.community :: discussion thread about this article
HEXUS.lifestyle - press releases :: Widget UK announces Keomo's solar powered Bluetooth GPS receiver


External.links
Keomo - Solar Nemerix 16 home page
Keomo - SiRF Star 3 home page
Keomo - Nemerix 16 home page
Keomo - home page
Widget UK - home page