EE has written to HEXUS today to inform us that it has flicked the switch to turn on its 4G+ (LTE-Advanced) service in London. The faster mobile data service, which can reach speeds of around 150Mbps, is now live at 150 sites in central London. The fibre broadband rivalling service is claimed to offer speeds on a par with "the world's fastest".
Large parts of London including Shoreditch, Old Street, Southbank, Soho, Westminster and Kensington will have access to EE's 4G+ service. "The UK is now back to being a world leader in mobile networks. Just two years since we were behind every developed market from the US to Japan, we've invested in innovation, driven competition and given people in London a mobile network that's faster than almost any other in the world, and even faster than most fibre broadband available here," said EE CEO Olaf Swantee. He went on to claim that his firm offers "the largest 4G network in Europe."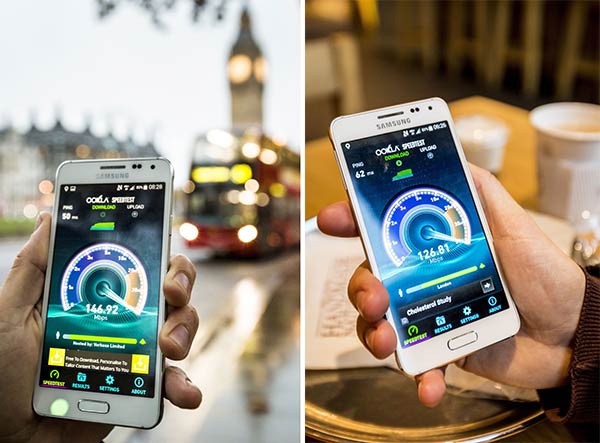 To experience 4G+ (LTE-Advanced) speeds you don't only have to be in the above mentioned areas. Currently there aren't a large number of mobile devices which support the standard. EE actually only sells two such devices; the Samsung Galaxy Alpha and the Samsung Galaxy Note 4 smartphones. If you are lucky enough to own one of these mobiles and are in the right area of London you can expect speeds to be regularly around the 90Mbps mark, topping out at speeds approaching 150Mbps. We are told that the 4G+ speeds are achieved via carrier aggregation technology, "combining 20MHz in each of the 1800MHz and 2.6GHz bands, enabling a theoretical maximum speed of 300Mbps".
EE says that 4G+ (LTE-Advanced) service will completely cover London by April next year and the firm will start to target the next busiest cities around the UK - Birmingham, Manchester and Liverpool shortly after that date.
In other EE news today the network announced that it had added 19 more towns and cities to its UK 4G coverage with Warwick as the 300th 4G town to go live. Home of 'Last of the Summer Wine', Holmfirth, also got 4G in the latest batch of switch-ons, as did Alexandria (Scotland), Banbury, Biggleswade, Blaydon, Catterick Garrison, Cookstown (Northern Ireland), Garforth, Greenock, Limavady (Northern Ireland), Maltby, Oxted, Penicuik (Scotland), Tring, Waltham Cross, Warminster, Winterbourne, and Ystrad Mynach (Wales).
Finally EE says its double speed 4G (with speeds up to 60Mbps) is now available in 20 places with wide coverage coming to 20 more large towns and cities by the end of the year.