Virgin Media today launched its 152Mb broadband service in the UK. Existing customers will get upgraded, or 'supercharged', from 30Mb to 50Mb, 60Mb to 100Mb and 120Mb subscribers will get 152Mb. The headlining 152Mb speed is "the fastest widely available connection in the UK."

Virgin's new top speed of 152Mb is now even further ahead, it's offering a symbolic doubling of the fastest downloads from either Sky or BT (which peak at 76Mb) . The new up-to-152Mb service is said to be capable of downloading "an entire TV show in one minute". The company also boasts that this fibre-optic connection is "19 times faster than regular broadband". There are plenty of reasons to want faster broadband but Virgin's research suggests that there are more and more devices in British homes connected at the same time, often wanting to download films, stream music and play games.
Coinciding with these speed upgrades new parental controls technology is also highlighted by Virgin. Web Safe "allows the account holder to restrict access to types of potentially age-inappropriate websites," and works across any device connected to the home internet service. All new installations will be offered Web Safe and all existing customers will be able to utilise Web Safe by the end of the year. Virgin has also invested in creating an interactive guide called 'Switched on Families' to provide "clear, honest and useful advice on a range of issues such as who to trust, inappropriate content, cyber bullying and digital addiction".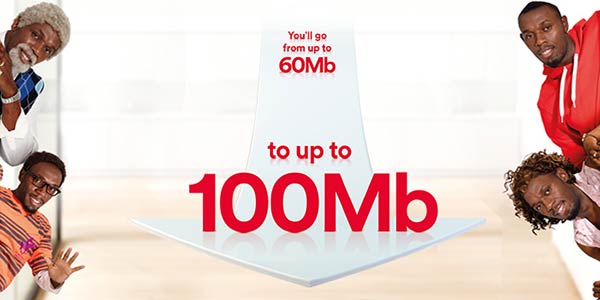 As mentioned in the introductory paragraph, existing Virgin Media customers will get upgraded when such speeds are available in their region. An email should arrive informing customers of the upgrade readiness. You can also check directly here for such information and an estimated availability date. Virgin superfast broadband prices are £15.50 a month for 50Mb, £20.50 for 100Mb, and £28.50 for 152Mb (all plus £15.99 phone line rental, 18 month agreements). There are also special discounted offers on joining for the first six months right now.