Dixons Retail has become the first UK retailer to stock Steam Wallet cards in store. We have been told, in an email from a senior manager at Dixons Retail, that you can now buy these PC game collection boosting gift cards in denominations including £10, £20 and £50 values at all UK Currys/PC World stores nationwide (almost 500 stores). Furthermore Dixons plans to leverage these Steam Wallet gift cards in future promotions and bundles with PC hardware.

Dixons says these cards make great Christmas gifts for anyone who is a "FPS fanatic, RPG Guru or RTS specialist." A buyer can enjoy a very wide choice of games from the Steam Store using the credit from this gift card; "giving the ability to purchase, download and play games from the comfort of a computer chair, it's the ideal gift for any PC gamer." Many PC gamers won't need to reminded that now is a good time to browse the Steam Store as its the time of the traditional 'Steam Holiday Sale' which kicked off last Thursday and runs until Friday 3rd January. There are lots of deals on there but it's often best to wait until a game you fancy hits the 'Daily Deals' section.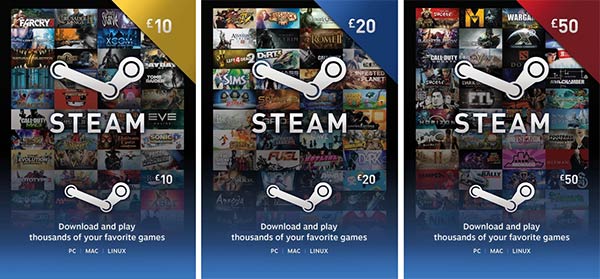 Steam Wallet Cards in special offers and promotions
Back with the Dixons Retail news, the senior manager told us "The really exciting thing for PC gamers is that we can now leverage them [Steam Wallet Cards] for special offers. We're working on ways to give Steam Wallet away with relevant products like mice, keyboards and headsets so gamers have a new reason to keep shopping with us."
Gearing up for Steam Machines
Also you might be interested to hear that Dixons retail is "gearing up for Steam Machines next year," and this gift card announcement is just the start of a special relationship between the retailer and Valve. You can also expect more 'Gaming Bunker' areas, perhaps also featuring Steam Machines next year.
Please note that UK retailer GAME sells Steam Wallet credit and you can trade in your old games and hardware to top up your Steam credit too. However GAME doesn't sell the physical gift cards at the time of writing.