It has been announced that Valve has integrated a new payments method into Steam. Users worldwide are now able to enjoy the digital simplicity of making their purchases with bitcoins, according to the BitPay blog. There had been rumours pointing to this move previously, and now Valve's Steam platform has joined Green Man Gaming, Ouya and Xbox in accepting the (in)famous cryptocurrency.
The Steam platform has millions of active users but would like to make payments simpler and faster in emerging markets such as India, China and Brazil. Bitcoin was the solution Valve was looking for; as such developing countries have many people without access to traditional online payment access via credit and debit cards. "Bitcoin will allow Steam to easily reach gamers in every market around the world – without the high fees or the risk of chargeback fraud that come with card payments," explains the BitPay Blog.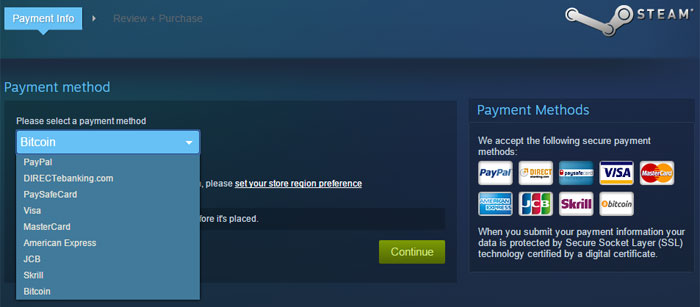 As yet Valve hasn't made any announcement concerning the acceptance of bitcoins but I have just checked to see if the payment option is available here in the UK and it is (see above). After adding a game to the 'cart' and then moving on to the 'checkout' stage you simply select 'bitcoin' from the many options that pop up when you 'select a payment method'. Bitcoin is right at the bottom of the list.
BitPay tells us to look forward to it partnering with more online game stores. However it will be interesting to see if this 'international' payment option will open up more issues in the location sensitive pricing plans and digital games sales refunds from the likes of Steam.