Budapest saw a protest staged by tens of thousands of Hungarian citizens on Sunday. It was an anti-government demonstration against a proposed new tax to be levied upon Internet data transfers, reports Reuters.
40p tax per GB
Furious with the plans, demonstrators rallied in front of the Economy Ministry in the capital, urging Prime Minister Viktor Orban's party to scrap the new law. If enacted the law will see internet service providers (ISPs) pay 150 forints (£0.40, $0.62) for every gigabyte of data traffic transferred over their networks. This would not only increase the tax burden, but is also seen as an "anti-democratic" legislation by campaigners who say that will most adversely affect the poor.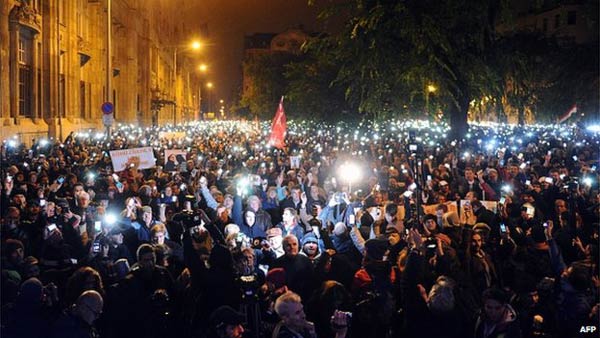 Although the draft tax bill, which was unveiled on Tuesday, suggests that it would let companies offset corporate income tax against the new levy, the protesters believe that the tax burden will end up being pinned upon common users eventually. The Reuters report states that Hungary's Association of IT, Telecommunications and Electronics Companies has already said the new law would force them to raise prices.
The demonstration was organised by a Facebook group which has over 210,000 supporters. Protesters threw parts of old computers at the gates of Orban's Fidesz party whilst others raised their mobile phone 'torches', lighting up the square in front of the ministry. Signs with slogans such as "Free Wi-Fi! Free Internet! Free Hungary!" were held aloft by protestors.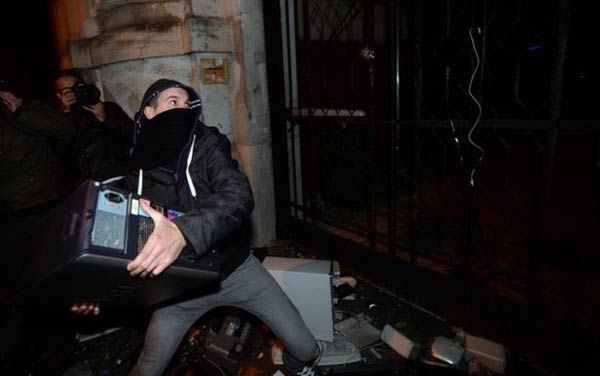 Rally organisers said the move "follows a wave of alarming anti-democratic measures by [Prime Minister] Orban that is pushing Hungary even further adrift from Europe". They added that "The measure would impede equal access to the Internet, deepening the digital divide between Hungary's lower economic groups, and limiting Internet access for cash-poor schools and universities".
In response, the ruling Fidesz party announced on Sunday that it would submit an amendment to the law ensuring that a maximum level on the tax payable by individuals would be capped at 700 forints (£1.90) per month.
Meanwhile Italy plans extensive free public Wi-Fi to bridge digital gap with Europe
Working on their economy from a different angle, over 100 legislators in Italy have proposed spending €5 million over three years to help install gratis Wi-Fi hotspots in thousands of locations across the country. The thinking is that free public Wi-Fi will help revive the Italian economy, according to Reuters, in a separate report.
"We are really badly placed when it comes to Internet access," Sergio Boccadutri, a member of the ruling Democratic Party and sponsor of the proposal, said. "Free Wi-Fi would have a big cultural impact and help the economy recover, starting from industries such as tourism."