Internet entrepreneur Kim Dotcom is offering a colossal $5 million (£3 million) bounty to any whistleblower that might help to get him out of his legal quagmire. The Megaupload founder, who is currently in New Zealand on bail and resisting US extradition, wants to prove that the US and/or New Zealand governments, the MPAA and/or RIAA have acted in unlawful or corrupt ways. Dotcom Tweeted, that to save him from his unfair persecution, "I need whistleblowers, I am offering USD $5M".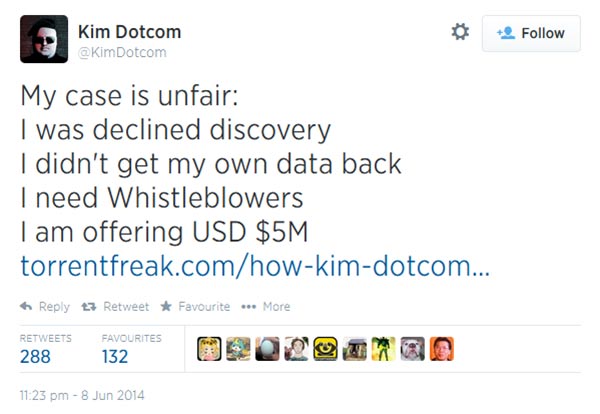 Torrentfreak details exactly what Dotcom is up against in what it says is the "biggest copyright infringement case ever". The US government are trying to extradite Dotcom from New Zealand, which is playing nicely with Uncle Sam. Also if the Mega boss gets sent to the US then civil actions from both the MPAA and RIAA await him. The various parties going after Dotcom want to lock down his assets in countries where they may shortly be unfrozen following legal manoeuvres.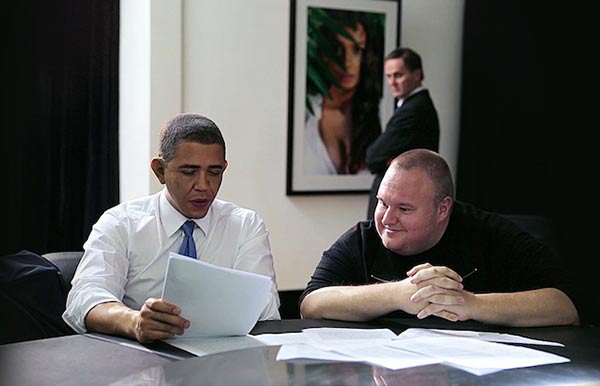 Dotcom believes that there must be someone in the governments/companies involved in his prosecution that knows of some unlawful or corrupt goings on which were instrumental in his prosecution. He believes that "Former Senator and now MPAA chairman Chris Dodd and Vice President Joe Biden in particular have abused their political power to make the pre-trial destruction of Megaupload possible," for example.
Talking to Torrentfreak, Dotcom explained his offer, "Let me be clear, we are asking for information that proves unlawful or corrupt conduct by the US government, the New Zealand government, spy agencies, law enforcement and Hollywood." He went on to pledge 'protection' for the informant "It is the opinion of my legal team that disclosure of such information would be lawful. I would also guarantee that any whistleblower coming forward would have the best legal representation at zero cost".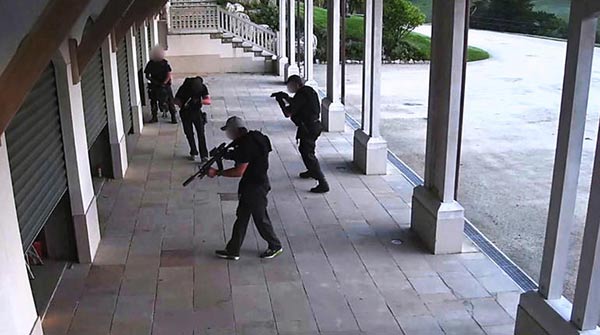 The raid on Kim Dotcom's New Zealand mansion
To do their whistleblowing Dotcom even provides some safety advice. He suggests using the new whistleblower tool launched by The Guardian recently to deposit documents. He recommends that this tool is used via an internet café style access area. For utmost security it is suggested the whistleblower "buy a cheap laptop or netbook just for the purpose of leaking and destroy it after you're done".
If someone does come forward to help Dotcom then they will gain a potentially life changing amount of cash and the Megaupload founder might be able to more easily avoid the lengthy jail terms and large fines which he faces.