One of the biggest ever BitTorrent sites has returned after a "well deserved vacation". Demonoid is back up and available at Demonoid.ph which the .com and .me domains forward to. Reportedly former users of the site "are still able to use their login details, and most of the old torrents are still listed on the site," according to TorrentFreak.
The tracker apparently returned a fortnight ago as the site was being readied for re-launch. The site, formerly hosted in Ukraine, was shuttered in August 2012 coinciding with a visit of that country's president to the USA. Many thought Demonoid would not return, especially as what looks like a continuation of the old service rather than some other site with the Demonoid name slapped on it.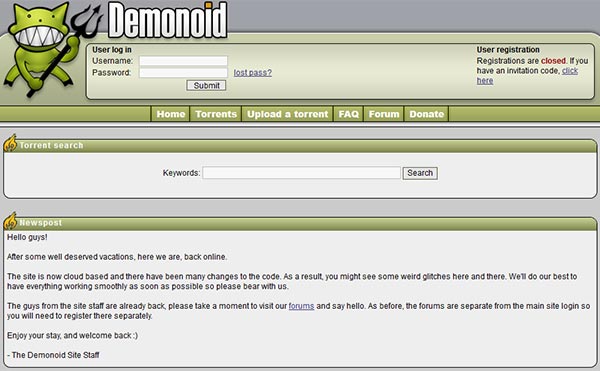 With its .ph suffix the site appears to be currently anchored in the Philippines, perhaps that's where they have been on 'vacation'. However registering a .ph domain name has no local residency requirement. The Demonoid team inform us that "The site is now cloud based and there have been many changes to the code". Thus users might experience a few glitches while wrinkles are ironed out. We are also told that the site staff "are already back" and the forums are becoming active again.
The Pirate Bay Bundle
In other torrent site news TPB recently launched The Pirate Bay Bundle, subtitled "a logistical nightmare and a celebration of small videogames". This free collection of 101 "weird, free, mostly ignored videogames" is available in a torrent from the usual sources.
The games developers agreed to their games inclusion and distribution in the bundle and some even adapted their browser-only title to be an offline standalone game for bundling purposes. A full list of the games with information links can be found here if you don't feel like downloading and experiencing the whole bundle.