A new report published today by the Department for Culture, Media & Sport reveals that for every £1 the Government invests in broadband, the UK economy benefits by £20. That's a great return on any investment and great value for tax payers. The new report was put together by analysts SQW (with Cambridge Econometrics).
"What this report shows us is that as well as superfast broadband being good for economic growth it will make even more of a positive impact on the way we live, helping us work more productively and get online faster," said Secretary of State for Culture, Media and Sport Maria Miller. "This investment in technology is vital for our future and will help Britain continue to compete in the global race and improve the way we live and work," she added.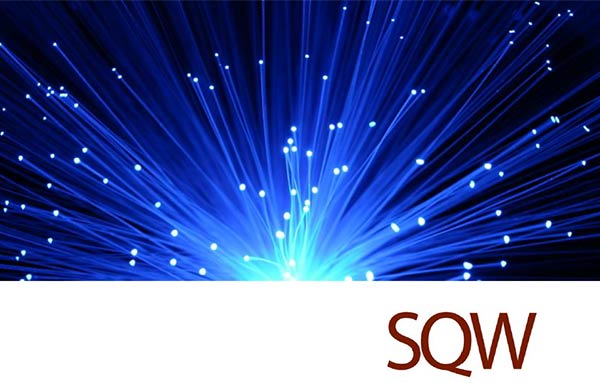 The UK Broadband Impact Study – Impact Report says that government investment in improving the UK's broadband is retuned 20-fold. You can download the full study from here (PDF). Please note that the study doesn't include any impacts associated with further interventions resulting from the Government's announcements in July 2013 on extending superfast broadband to 95 per cent of premises by 2017.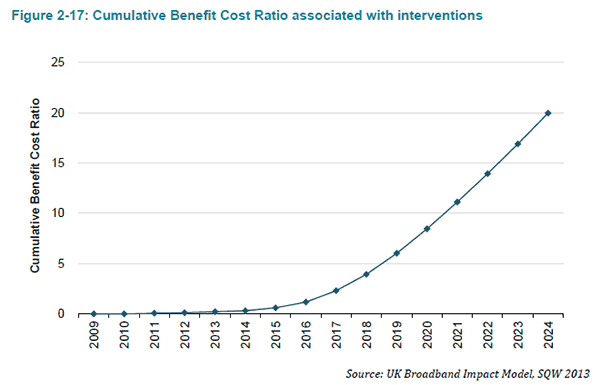 Broadband use has grown to be a major part of many people's business and home lives and makes a major impact on how we live; more people work from home, make money online, communicate, play games and watch their TV and movies online. Because internet use touches so many parts of our lives it must be the reason behind the "unusually high level of return for public funding" that was found.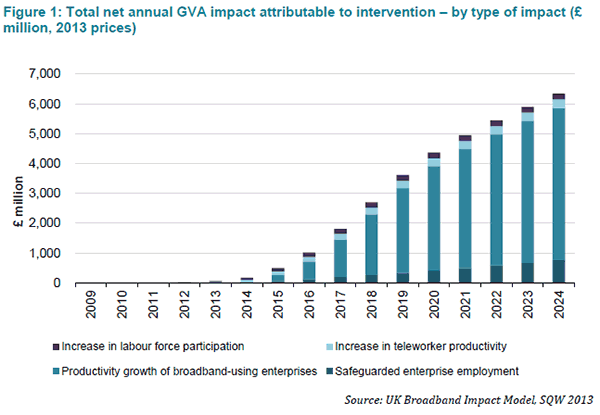 As well as the quantified economic impacts charted above the UK Broadband Impact Study describes social and environmental impacts upon the UK. Socially it's difficult for the researchers to quantify the "complex and changing nature of the interactions between people and technology". However teleworking is expected to give workers a saving of about 60 million hours of leisure time per annum in the UK by 2024 – 10 million of those hours attributable to the government investments). Less commuting will also save households quite a lot of expense.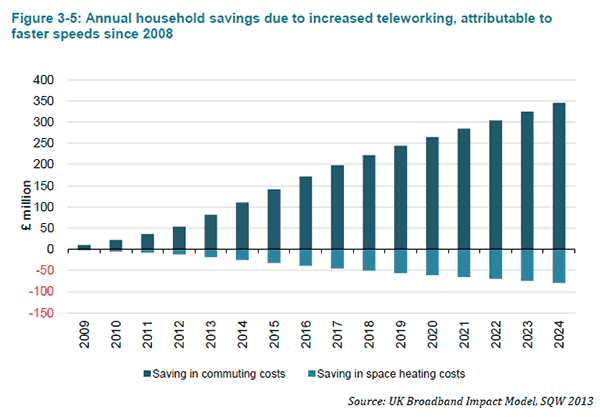 In environmental terms faster broadband tech will, by 2024, have the following estimated impacts:
Saving 2.3 billion kms in annual commuting (2 per cent of current total)
Saving 5.3 billion kms in annual business travel (9 per cent of current total)
Saving 1 billion kWh of electricity usage p.a.
Overall the UK should achieve 1.6 million tonnes of carbon dioxide equivalent (CO2e) savings per annum by 2024.
Also let's not forget the speed of advance of faster mobile networks and alternative networking technologies, which should also have positive impacts on internet speeds across the country.